Observers hail Xi's Sochi trip

President Xi Jinping's attendance at the opening ceremony of the Winter Olympics in Sochi reflects China's strong support for the Olympics and shows that it attaches great importance to the strategic coordination partnership between the two nations, observers said.
Russia was the first country that Xi visited after taking office in March, and the trip to Sochi marks the Chinese leader's first attendance at an international sports event outside China.
Mikhail Titarenko, director of the Russian Academy of Sciences Institute of the Far East, said these two "firsts" illustrate the importance of Sino-Russian relations.
"Global events like the Winter Olympics will help to enhance the friendship between leaders from the two countries. The event is also a good opportunity to strengthen bilateral relations and people-to-people exchanges between China and Russia," Titarenko added.
An article in the Russian newspaper Nezavisimaya Gazeta said Xi's trip to Sochi, along with the visit of Russian President Vladimir Putin to Beijing for the 2008 Olympics, shows that cooperation between the countries has become more effective and diversified.
Compared with some Western countries' leaders, who have refused to attend the opening ceremony in Sochi, Xi's visit gives huge support to his Russian counterpart, showing that Beijing and Moscow are using every opportunity to support each other as strategic partners, the article said.
Chinese Ambassador to Russia Li Hui said Xi's trip to Sochi also shows China's confidence in becoming more open to the international community.
"Xi's attendance at the Sochi Winter Olympics opening comes after China's most important traditional festival, Chinese New Year. The trip also makes Russia, for the second time, Xi's first foreign destination of the year. All this shows the significance of the special relations between the two countries," Li said.
Li also said that this year marks the 65th anniversary of diplomatic relations between China and Russia.
"We believe President Xi's visit to Sochi will deepen the comprehensive strategic partnership of coordination between China and Russia. And we wish the Sochi Winter Olympics great success," Li added.
Contact the writers at zhaoyanrong@chinadaily.com.cn and
renqi@chinadaily.com.cn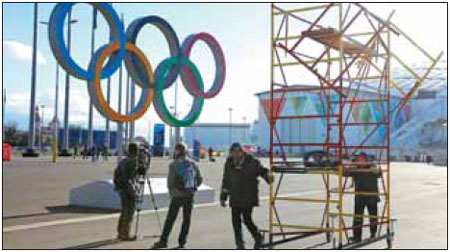 Last-minute preparations are made on Thursday in Sochi, Russia, for the opening of the 2014 Winter Olympics. Brian Snyder / Reuters
(China Daily 02/07/2014 page10)
Today's Top News
Editor's picks
Most Viewed