Morsi on trial for alleged prison break in 2011
Former Egyptian leader also faces charges of spying involving Hamas
Egypt's deposed president Mohammed Morsi went on trial on Tuesday on charges of breaking out of prison during the 2011 uprising against former president Hosni Mubarak.
Morsi, ousted by the army in July, is already on trial for inciting the killings of opposition activists during his presidency and faces two other trials that have yet to begin.
Official news agency MENA said the trial had commenced.
The hearing was aired live exclusively on state television.
An AFP correspondent present in the courtroom was unable to communicate with the outside world as authorities had taken away the mobile phones of reporters covering the proceedings.
Morsi was also brought to court for the first hearing on Nov 4 over the killings of opposition activists.
"This session is procedural and the defense team will ask for postponement to study the case documents," Aly Kamal, a member of Morsi's legal defense team, told the website of the state-run Al-Ahram newspaper.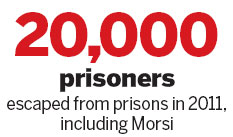 He was tried with 130 others, including members of his banned Muslim Brotherhood group, the Islamist Palestinian movement Hamas and Lebanon's Shiite militant group Hezbollah.
The trial was held under tight security in a makeshift courtroom inside a police academy on the outskirts of Cairo.
Outside the courtroom, security measures were beefed up and more than 60 armored vehicles and 8,000 security personnel were deployed, the state TV report added.
The Islamist leader was deposed following massive protests against his one-year rule as president.
He also faces charges of espionage involving Hamas, with that trial due to open on Feb 16, and for insulting the judiciary, for which a date has yet to be set.
Tuesday's hearing came a day after the powerful military gave its backing to army chief Field Marshal Abdel Fattah al-Sisi to run for the presidency after he led the ouster of Morsi.
Tuesday's trial date is symbolic as it marks the third anniversary of the prison breaks.
More than 20,000 prisoners escaped from the prisons in 2011, and investigations revealed that contacts were made between the leaders of the Muslim Brotherhood, Hamas and Hezbollah.
Morsi was among those set free from Wadi Natrun jail as protesters fought street battles to bring down Mubarak.
Prosecutors have said almost 70 of the defendants allegedly belonged to either Hamas or Hezbollah and that some of them were also accused of murdering police officers and helping thousands to escape during the jailbreak.
AFP - Xinhua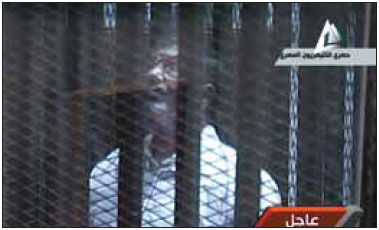 Egypt's former president Mohammed Morsi stands inside a glass-encased metal cage in a courtroom in Cairo, Egypt, on Tuesday. Morsi was separated from other defendants for the start of a new trial over charges from prison breaks during the country's 2011 uprising, state television reported. Egyptian State TV via Associated Press
(China Daily 01/29/2014 page10)
Today's Top News
Editor's picks
Most Viewed