Thai protest leader says 'no' to civil war
Bangkok braces for traffic chaos as demonstrators plan to block roads
The leader of a movement trying to topple Thailand's government says he will call off his protest if civil war threatens to break out but rejects any compromise with the government ahead of a planned "shutdown" of the capital.
Bangkok is bracing for traffic chaos as anti-government demonstrators plan to occupy major road intersections.
There is concern that violence may ensue on Monday and trigger a military coup.
Supporters of Prime Minister Yingluck Shinawatra were rallying in her defense on Sunday but steered clear of the capital, where people went about their business as usual.
The anti-government protesters accuse Yingluck and her brother, former premier Thaksin Shinawatra, of corruption. She has called an election for Feb 2, but protesters want her caretaker government to step down immediately.
In an interview published on Sunday, protest leader Suthep Thaugsuban ruled out talks with the government, but said he will stand down his movement if, as some fear, violence escalates and civil war looms.
"If it becomes a civil war, I will give up. People's lives are precious for me," he was reported as saying by the English-language Sunday Nation newspaper. "If someone instigates a civil war, I will tell the people to go home."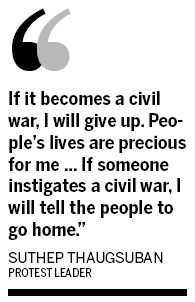 The eight-year conflict pits Bangkok's middle class and royalist establishment against the mostly poorer, rural supporters of Yingluck and Thaksin, who was overthrown in a military coup in 2006.
Their Puea Thai Party seems likely to win any new election, which the government says must be held on Feb 2 now that parliament has been dissolved. The date has been endorsed by the king.
However, a member of the Election Commission said on Saturday the vote could be held on May 4, arguing that is permissible under the constitution because candidates had been prevented from registering in some districts, meaning there would be no quorum to open parliament after a February poll.
Eight people, including two police officers, have been killed and scores injured in violence between protesters, police and government supporters in recent weeks, although there has been no sustained fighting between rival groups.
Police said seven people were wounded early on Saturday when gunmen on motorcycles fired at anti-government protesters in central Bangkok near the Khao San Road area, which is popular with tourists.
The government will deploy 10,000 police to maintain law and order on Monday, along with 8,000 soldiers who will be used mainly to protect government buildings.
Chinese Ambassador to Thailand Ning Fukui said, "Chinese people believe that Thai people have the ability and intelligence to solve political disputes through dialogue in a bid to protect the country's long-term peace and security."
Joining the 45 countries that have issued travel warnings, the ambassador told Chinese tourists to stay away from the demonstration sites from Monday and advised them not to wear red or yellow.
Chinese tourist organizations in Thailand have warned Chinese tourists to avoid Bangkok from Monday and suggested they visit other major destinations including Phuket, Sukhothai, Pattaya or Chiang Mai.
Fears of more clashes between rival factions escalated after pro-government "red shirts" said they would begin their own rallies from Sunday in provinces neighboring Bangkok and in a northeastern stronghold, Udon Thani, where leaders said they expect 10,000 people by Monday.
Many Thais believe the military could step in to break the political deadlock, especially if the protests turn more violent, and as rumors of a coup grow.
The army has staged or attempted 18 coups in 81 years of on-off democracy, but has tried to remain neutral this time.
Army chief Prayuth Chan-ocha said on Saturday he fears an escalation in violence this week, adding, "I want to tell all sides they must not clash with each other ... We are all Thais and can live together despite our differences."
The protesters say they will block seven main intersections in Bangkok, causing gridlock in a city clogged with traffic at the best of times, and they could shut off other roads as part of a prolonged siege of the city.
Foreign Minister Surapong Tovichakchaikul said on Friday it was alarmist of the US embassy to advise its citizens to get in two weeks' supply of food and water.
Yang Cheng in Bangkok contributed to this story.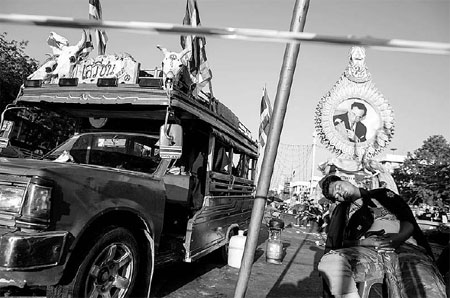 A man sleeps at the anti-government protesters' encampment near Bangkok's Democracy Monument on Sunday. Seven people were wounded after gunmen on motorcycles opened fire on anti-government protesters in the Thai capital on Saturday. Nir Elias / Reuters
(China Daily 01/13/2014 page11)
Today's Top News
Editor's picks
Most Viewed