S. Sudan government, rebels set for peace talks
Insurgent troops recapture Bor ahead of deadline for negotiations
South Sudan's government and rebels were set to start New Year's Day peace talks in Ethiopia's capital, Addis Ababa, to hash out details of a ceasefire to end more than two weeks of ethnic bloodletting in the world's newest state, mediators said.
Delegations from both sides were scheduled to arrive later on Wednesday, said regional bloc Intergovernmental Authority on Development, as South Sudan's government acknowledged it had lost the key town of Bor in the latest clash with militias loyal to former vice-president Riek Machar.
Government troops had made a "tactical retreat" to barracks 3 kilometers away on Tuesday, said Nhial Majak Nhial, mayor of Bor, the capital of Jonglei state, which has untapped oil reserves and was the site of an ethnic massacre in 1991.
"Yes they (rebels) have taken Bor," Nhial said from the national capital Juba, 190 km south of Bor by road.
"I'm worried that the continued fighting in Bor might scupper the start of these talks," said Ethiopian Foreign Minister Tedros Adhanom, who is chairman of the East African bloc IGAD that is mediating.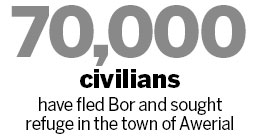 IGAD said both sides would name teams of negotiators to agree on ways to roll out and monitor the ceasefire in a bid to end the fighting that has killed at least 1,000, unsettled oil markets and raised fears of a civil war in a fragile region.
"We don't want to expose the people of South Sudan to a senseless war," South Sudan's Foreign Minister Barnaba Marial Benjamin said on a government Twitter feed on Wednesday.
The government and rebels agreed to start talks under mounting pressure from regional and Western powers.
Washington, the United Nations and South Sudan's neighbors played a central roll in negotiations that ended decades of civil war with Sudan to the north and led to the secession of South Sudan in 2011, and have been scrambling to stem the latest violence.
South Sudan holds the third-largest oil reserves in sub-Saharan Africa after Angola and Nigeria, according to BP, but remains one of the continent's least developed countries.
US pressure
South Sudanese President Salva Kiir has accused his long-term political rival Machar, who he sacked in July, of starting the fighting in a bid to seize power.
Clashes between soldiers erupted on Dec 15 in Juba. The violence quickly spread to oil-producing areas, dividing the country along the ethnic lines of Machar's Nuer group and Kiir's Dinkas.
Machar has denied the charge, but he has acknowledged leading soldiers battling the government.
The White House upped the pressure late on Tuesday, saying it would deny support to any group that seized power by force.
"We will hold leaders responsible for the conduct of their forces and work to ensure accountability for atrocities and war crimes," said spokeswoman Caitlin Hayden.
The UN Mission in South Sudan said ethnic-based atrocities, often carried out against civilians by uniformed men, have taken place across the country.
Medical charity Medecins Sans Frontieres said about 70,000 civilians had fled Bor and sought refuge in the town of Awerial in neighboring Lakes state, with no access to food, clean water or shelter. Others were hiding in swamps.
"Living conditions are verging on the catastrophic," MSF said.
Fighting across the country has displaced at least 180,000 people, according to the UN.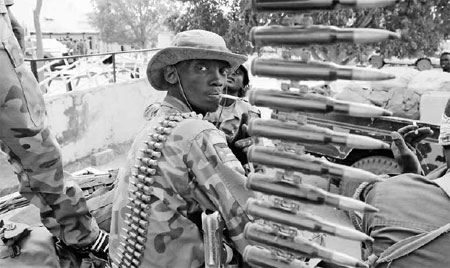 South Sudanese army soldiers stand guard on a truck in Malakal, located 500 km northeast of capital Juba, on Monday, a few days after retaking the town from rebel fighters. The army admitted on Wednesday that the rebels had seized the strategic town of Bor. James Akena / Reuters
(China Daily 01/02/2014 page11)
Today's Top News
Editor's picks
Most Viewed