Thai protesters disrupt candidates
Thai opposition protesters stepped up their campaign to disrupt upcoming elections on Monday, trying to block candidate registrations as part of efforts to banish Prime Minister Yingluck Shinawatra and her family from politics.
The main opposition Democrat Party, which has not won an elected majority in parliament in two decades, has vowed to boycott the Feb 2 snap election called by Yingluck following weeks of street rallies against her.
It is the latest chapter in a years-old political crisis, which broadly pits a Bangkok-based elite against mostly rural and poor supporters of Yingluck and her brother Thaksin Shinawatra, a divisive former premier who was ousted in a coup in 2006.
Hundreds of demonstrators surrounded a stadium on Monday in Bangkok where representatives of political parties were trying to register ahead of the Dec 27 deadline to run for office.
Nine parties, including Yingluck's Puea Thai, managed to enter, although officials were unable to fully complete their registrations, according to the country's Election Commission.
About two dozen parties filed complaints with the police because they were prevented from entering.
But it appeared to be only a temporary setback with the election authorities expressing confidence that the parties would be able to register in time.
"For those parties that cannot enter the stadium, we will contact them and make appointments for them to submit documents," Election Commissioner Dhirawat Dhirarojvit said.
Puea Thai party said that Yingluck was on top of the party's list of candidates - a position that would usually make her Puea Thai's pick for prime minister if it wins at the polls.
Her candidacy is certain to anger the demonstrators.
Protest leader Suthep Thaugsuban has vowed to "shut the country down" to prevent people from voting.
The demonstrators' self-proclaimed People's Democratic Reform Committee is calling for an unelected "people's council" to be installed to oversee sweeping but loosely defined reforms before new elections in about a year to 18 months.
Agence France-Presse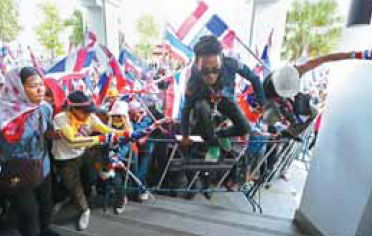 Anti-government protesters jump over a fence during a rally at a government building in Bangkok, Thailand, on Monday. Elsewhere, they tried to block election registrations. Wason Wanichakorn / The Associated Press
(China Daily 12/24/2013 page12)
Today's Top News
Editor's picks
Most Viewed