Protesters drop hints on agenda for EU leaders
As European leaders gathered in Brussels for discussions on defense and security policy on Thursday, protesters said the leaders had the wrong agenda.
Charlotte Fichefet, 26, one of hundreds in the streets around the EU's Belgian headquarters, was one of them.
"I don't think the EU needs to form its own army and waste more taxpayers' money on defense, which is not one of our pressing concerns," said Fichefet, a Belgian who holds a master's degree.
With one in four young Europeans jobless, Fichefet said leaders should be more concerned about social ills - unemployment and the reduction of welfare benefits - that are not helped by the EU's austere fiscal policies.
Fichefet joined other protesters who were shouting slogans and warming themselves at a temporary wood-fired brazier 400 meters away. She said she is working on another master's degree because more knowledge might improve her chances of finding a job.
"They told us that more degrees could help us increase social mobility and make it easier to find work," she said. "But that is not true for me now."
About 5,000 protesters flooded into Brussels to be seen and heard by the European Council. Leaders of 28 EU countries are attending the meeting.
Charlotte Forges, another demonstrator, said ordinary Europeans have a very different understanding of the security agenda to the politicians.
"Europe as it is today is the one we do not want," Forges said. She added that she is more concerned about social security than about national or EU security, none of which is under threat.
Moreover, Forges said, ordinary Europeans are cautious about the ongoing Transatlantic Trade and Investment Pact negotiations between the EU and US, and the possible impact.
"And, of course, we are very concerned about the US spying on us in cyberspace, but social security is more urgent than that," Forges said.
Many European Union leaders have concluded that the bloc escaped a damaging double-dip recession earlier this year and has erected good financial and debt firewalls and established new economic governance. So they feel the EU is now free to consider issues of common defense and security.
They see military spending as a way to create jobs and improve the ability of the EU to participate in peacekeeping worldwide.
In contrast, some member-state leaders insist that security and defense should be the sole domain of NATO, which is also headquartered in Brussels.
A consensus may be announced on Friday.
Earlier, European Council President Herman Van Rompuy said EU leaders were expected to discuss increasing the effectiveness, visibility and impact of a common security and defense policy. It would balance the development of defense capabilities in member states, he said, while creating jobs in Europe's defense manufacturing industry.
President of the European Commission Jose Manuel Barroso said the EU will not have the influence it needs in the world without a common defense policy. To play a stronger role, the EU needs to strengthen its defense and security sector, he said.
"It's time to do more together, and it's time to commit and engage for more defense cooperation. This is what I am looking forward to seeing at the summit," Barroso said.
Catherine Ashton, the high representative of the EU's Union for Foreign Affairs and Security Policy, said the EU wants to be a security provider, both in its own areas and globally.
fujing@chinadaily.com.cn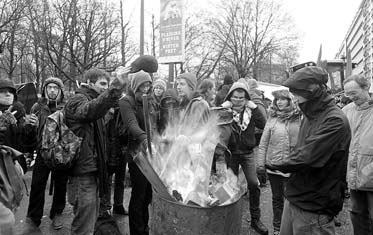 A group of young Belgians join 5,000 protesters outside EU headquarters on Thursday, shouting slogans while warming themselves by burning firewood. Fu Jing / China Daily
(China Daily 12/20/2013 page11)
Today's Top News
Editor's picks
Most Viewed