UN told up to 500 killed in South Sudan
The United Nations received reports from local sources in South Sudan on Tuesday that hundreds of people had been killed and wounded in the latest violence, and the government said it had arrested 10 politicians in connection with a "foiled coup".
"Two hospitals have recorded between 400 and 500 dead and (up to) 800 wounded," a diplomat in New York said on condition of anonymity, citing an estimate UN peacekeeping chief Herve Ladsous gave during a closed-door briefing for the 15-member body.
Another diplomat confirmed Ladsous' remarks, adding that the UN was not in a position to verify the figures.
Earlier on Tuesday, a South Sudanese health ministry official said that at least 26 people were dead after fighting in Juba between rival groups of soldiers from Sunday night into Monday morning. Sporadic gunfire and blasts continued up to Tuesday evening.
The government said it had arrested 10 major political figures and was hunting for its former vice-president, accusing him of leading a failed coup in the oil-producing country's capital, where gunfire rang out for a second day.
The prominence of the names, including former finance minister Kosti Manibe among those who had been detained, underlined the size of the rift in Africa's newest state, less than two and a half years after it seceded from Sudan.
The United States said on Wednesday that it will start evacuating non-essential embassy staff and citizens from the country immediately, and that it was suspending normal operations at its embassy.
Plagued by ethic rifts
White House National Security Adviser Susan Rice in a post on Twitter said she was "Deeply, deeply concerned by violence in South Sudan", and the White House said US President Barack Obama was getting briefings on the situation.
South Sudan's President Salva Kiir said on Monday that forces loyal to former vice-president Riek Machar, whom he sacked in July, had attacked an army base in a bid to seize power.
But Machar denied such accusations in a statement on Wednesday.
"What took place in Juba was a misunderstanding between presidential guards within their division; it was not a coup attempt," Machar said in his first public comments since intense fighting broke out on Sunday.
South Sudan is one of the poorest and least developed countries in Africa despite its oil reserves, and it is plagued by ethnic fighting.
Around 16,000 people had taken refuge in UN compounds in Juba by noon on Tuesday, and the numbers were rising, the UN said.
Reuters-AP-AFP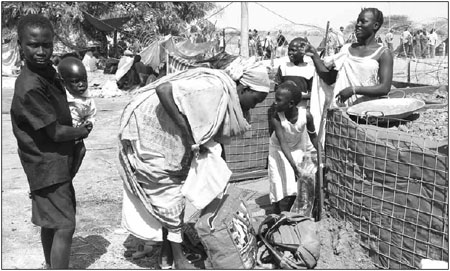 A family arrives at the United Nations compound on the outskirts of Juba, capital of South Sudan, on Tuesday. Hakim George / Reuters
(China Daily 12/19/2013 page11)
Today's Top News
Editor's picks
Most Viewed