French PM starts 5-day visit
Length of Ayrault's stay is seen as affirmation of growing relationship
French Prime Minister Jean-Marc Ayrault began his five-day visit to China on Thursday, continuing intensified high-level contacts and exchanges between Paris and Beijing to boost political trust and deepen economic cooperation.
At the start of his stay in Beijing, Ayrault toured the Forbidden City and delivered a speech at a Sino-French economic symposium, attended by hundreds of French and Chinese entrepreneurs and business leaders.
He is scheduled to meet President Xi Jinping, Premier Li Keqiang and Chairman of the National People's Congress Standing Committee Zhang Dejiang on Friday.
The visit once again confirms France's intention to seek closer interaction with China's top leadership and to refresh relations, French and Chinese analysts said.
Pierre Picquart, a China observer and professor of geopolitics at the University of Paris-VIII, said, "Paris now understands it is time to have a close relationship with Beijing as it is not just a rising power they need to deal with but also an indispensable partner with whom to build a new world economic and financial order."
Ding Chun, a professor of European studies at Fudan University in Shanghai, said, "The French leaders now realize they should respect China's core interests if they would like to grab the opportunities brought about by China's economic development.
"Ayrault's visit is one element of a series of China visits by French officials over the past few months, which show China-France ties are getting warmer."
In April, French President Francois Hollande became the first head of state from a major Western nation to visit China after its new leadership took office, marking an important landmark for the bilateral relationship.
Two weeks ago, French Finance Minister Pierre Moscovici visited China to lobby for Paris as a leading offshore renminbi trading center in the eurozone.
Foreign Minister Wang Yi visited Paris in late October and held discussions with Hollande and his French counterpart, Laurent Fabius, on bilateral issues, as well as pressing international issues, including the Syrian crisis and Iranian nuclear issue.
Such intensified contacts indicate that politicians from both countries realize that greater political trust and mutual understanding are needed to boost bilateral ties, experts said.
Hopes are high on both sides to take advantage of the 50th anniversary of Sino-French diplomatic relations in January 2014 to elevate the strategic partnership between Beijing and Paris to a new level. Xi is also expected to make an official visit to France next year.
Despite establishing a comprehensive strategic partnership in 2004, China and France have different understandings and expectations of the relationship, said Jiang Shixue, a researcher on European Studies at the Chinese Academy of Social Sciences.
"It is essential to make that live up to public expectations by deepening bilateral cooperation and exchanges, particularly in the economic field," he said.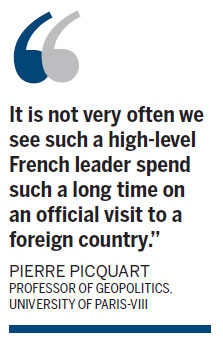 Beside a ministerial official for foreign affairs, Ayrault is also accompanied by four other ministers in charge of industry, energy, tourism and agriculture.
A fast-developing China brings lots of opportunities to the world, and France hopes to grab these to boost its economic development, said Wu Baiyi, also a researcher in European studies with the Chinese Academy of Social Sciences.
France is politically important for China, Wu said. "It plays a very important role in Europe, and China-France ties can serve as an example for China's relations with other European countries."
The French prime minister will also travel to Wuhan, the capital of Hubei province, where French enterprises have valuable business operations.
Agence France-Presse reported on Thursday that Beijing has approved a long-awaited $1.3 billion joint venture, which will be based in Wuhan, between French carmaker Renault and China's Dongfeng, the country's second-biggest car maker.
Ayrault will finish his visit on Saturday after visiting nuclear reactors in Guangdong province to mark the 30th anniversary of Sino-French cooperation in the field of civil nuclear energy.
"It is not very often we see such a high-level French leader spend such a long time on an official visit to a foreign country," Picquart said.
"The timing of the visit is good as it is a good opportunity for the prime minister to get to know China better, to take time to understand the country's new reforms and to have direct contact with the leaders and the Chinese people," he said.
France is now China's fourth-largest trade partner in the EU, behind Germany, the Netherlands and the United Kingdom. Bilateral trade increased from $13.4 billion in 2003 to $51 billion in 2012.
Contact the writers at zhouwa@chinadaily.com.cn and lixiang@chinadaily.com.cn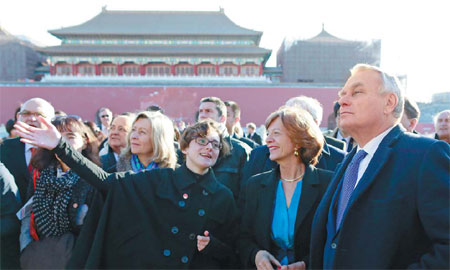 French Prime Minister Jean-Marc Ayrault (right) tours the Forbidden City at the start of his visit to China on Thursday. Ayrault is on a five-day tour, during which he will meet Chinese leaders in Beijing and travel to the cities of Wuhan and Guangzhou. Feng Yongbin / China Daily
(China Daily 12/06/2013 page10)
Today's Top News
Editor's picks
Most Viewed