Liu, Kerry meet in Washington
China and the United States vowed to continue expanding their people-to-people exchanges in a bid to build a new model of bilateral relationships, according to a consensus reached by Chinese President Xi Jinping and his US counterpart Barack Obama at an informal summit in Sunnylands, California, back in June.
And on Thursday in Washington, visiting Chinese Vice-Premier Liu Yandong and US Secretary of State John Kerry renewed the Memorandum of Understanding on China-US High-Level Consultation on People-to-People Exchange on behalf of their respective governments.
The CPE was launched in 2010 by Liu and then US Secretary of State Hillary Clinton after Obama's trip to China in November 2009.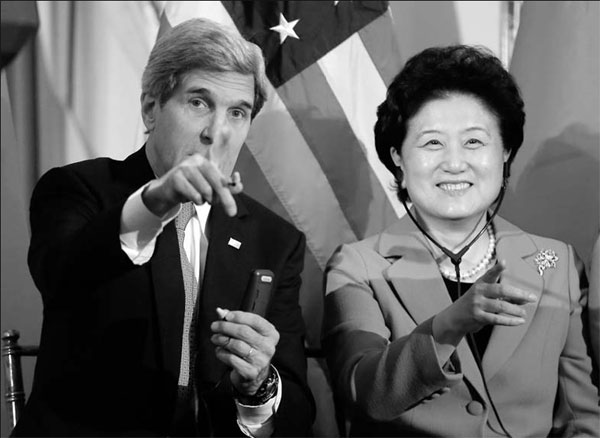 US Secretary of State John Kerry and Chinese Vice-Premier Liu Yandong point at a video screen during the fourth annual US-China Consultation on People-to-People Exchange in Washington on Thursday. Kevin Lamarque / Reuters
The Thursday ceremony at the State Department came after a year in which CPE working groups reviewed progresses and discussed future cooperation in such fields as culture, education, science and technology, sports and women's issues, a joint news release said.
The working groups produced 75 joint outcomes for future cooperation, and the two governments agreed to continue cooperating on a "Youth and Innovation" theme into 2014.
Both Xi and Obama sent letters to show their support for the exchange.
In his letter, Xi said that building a new model of relationships between major countries that feature no conflict or confrontation, but foster mutual respect and cooperation deserves the support and broad participation of the people of both nations.
"Over the years, the people-to-people exchange has played a positive role in enhancing China-US relations and has become an important pillar for the growth of relations between our two countries," Xi said in the letter, which was read by Liu.
The 100,000 Strong Initiative announced by Obama in late 2009 to send 100,000 US students to China has helped some 68,000 US students to study in China so far. Meanwhile, the Chinese government has provided scholarships to approximately 10,000 Chinese students to pursue PhD degrees in the US, as well as inviting more than 10,000 US students to China to study or visit.
In addition, traditional Chinese sports such as martial arts and qigong are winning over more Americans. The two countries also have cooperated in breast cancer prevention campaigns.
"It is fair to say that the China-US people-to-people exchange now enjoys a strong foundation, greater substance, wider areas, more diverse participation and growing influence," Liu said.
Kerry read from Obama's letter to the fourth CPE. "The Chinese and American peoples want a strong, cooperative relationship. And it is in our interest to work together to meet global challenges that we face," the letter said.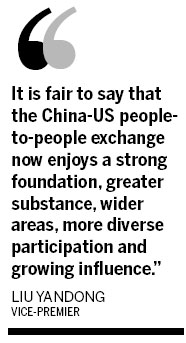 Kerry, who was sworn in as secretary of state in February, said that because of the CPE, US and Chinese citizens are learning from one another every day.
"Astronomy students are coming together to discover new challenges and developments in both Western and Chinese space exploration. Playwrights are connecting virtually in order to stage theater performances and live-stream them to cities in China and the United States simultaneously," he said.
"As President Obama put it in his letter, the world is looking to the United States and China to work together to solve pressing challenges." He said that by improving and expanding the ties between the two countries, the CPE provides critical gateways to important solutions.
"The president and I and our counterparts in China know that enabling people in countries to come together in pursuit of those goals will lead not only to greater understanding but eventually to an even stronger partnership.
Liu, the highest-ranking Chinese official to visit the US since the Third Plenum of the 18th Central Committee of the Communist Party of China, arrived there on Sunday.
In Chicago, the first leg of the trip, Liu visited a children's hospital, attended a forum on education and met local officials. In Washington, Liu met Vice-President Joe Biden, who will visit China in early December. She also went to Capitol Hill to meet members of the Congressional Black Caucus.
Liu will attend a number of events, including a cultural forum in New York on Friday, before proceeding on to Ethiopia for a state visit.
chenweihua@chinadailyusa.com
(China Daily 11/23/2013 page7)
Today's Top News
Editor's picks
Most Viewed