Dispute over US apology clouds Afghanistan deal
Last-minute efforts to finalize a security pact between the United States and Afghanistan were clouded on Tuesday by differences over whether US President Barack Obama had agreed to issue a letter acknowledging US mistakes made during the 12-year war.
The Afghan government said it received assurances that a letter would be provided this week to a grand council of Afghan elders. But Susan Rice, Obama's national security adviser, insisted that such an offer - which would draw criticism from Republicans and anger US war veterans - is "not on the table".
Washington has ruled out apologizing to Afghanistan for "mistakes" made during war and denied claims in Kabul that a mea culpa was being drafted.
The stern comments in Washington came after Afghan leader Hamid Karzai's spokesman said Obama planned to write a letter acknowledging that US military errors had caused civilian casualties.
"There is not a need for the US to apologize to Afghanistan. Quite the contrary," Rice told CNN on Tuesday.
The State Department also expressed caution on a long-sought bilateral security agreement, after an official in Kabul said the two sides had reached agreement on key points.
Aimal Faizi, Karzai's spokesman, said Obama would write to his boss acknowledging US "mistakes in the war on terror" and the suffering of the Afghan people due to US military operations, as part of the security agreement.
US officials later said the request for a letter had come from Karzai himself during a phone call with Secretary of State John Kerry on Tuesday.
Karzai and Kerry overcame the main stumbling blocks to an agreement in a telephone call on Tuesday but the US State Department said some issues still had to be resolved before a final draft can be presented to the Loya Jirga, a gathering of Afghan tribal and political leaders that will meet in Kabul starting Thursday.
Faizi, Karzai's spokesman, said the two sides agreed on provisions giving US troops immunity from Afghan law and allowing them to enter Afghan homes in exceptional circumstances, something the Afghan president had resisted.
"Obama will send a letter ... assuring the president and the people of Afghanistan that the right to enter into Afghan homes by US forces and the extraordinary circumstances will not be misused," Faizi said in Kabul.
Reuters-AFP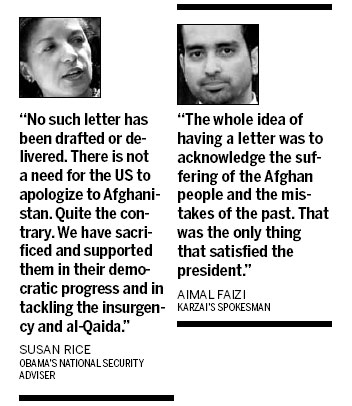 (China Daily 11/21/2013 page11)
Today's Top News
Editor's picks
Most Viewed