Fight against global warming 'inadequate', UN chief says
UN Secretary-General Ban Ki-moon on Tuesday lamented "insufficient" emission-cutting actions and criticized some rich countries for backtracking in fighting global warming.
"I am deeply concerned that the scale of our actions is still insufficient to limit global temperature rise to below 2 degrees Celsius from pre-industrial levels," Ban said.
Ban made the remarks in his speech to the United Nations Climate Change Conference in Warsaw.
The UN chief urged all countries to rise to the challenges of climate change with "wisdom, urgency and resolve" and expected "a steep climb" ahead a new global climate pact is to be reached by 2015.

Ban called upon those countries that have not yet done so to swiftly ratify the second commitment period of the Kyoto Protocol, agreed in Doha, Qatar, and to construct an action agenda to meet the climate challenge.
"Current pledges are simply inadequate. Here, too, we must set the bar higher," the UN chief added.
He also highlighted the importance of making sure that funding is in place to mitigate the negative effects of global warming.
"I call on you to step up on finance, including long-term finance and the Green Climate Fund," as progress on such funding can fuel confidence and scale up action on the ground, he said.
Ban expected the climate change conference in Warsaw to be "a crucial stepping stone" toward a possible global climate agreement in 2015.
Ban also criticized developed countries for lackluster commitments to fighting climate change, saying those countries "that are supposed to be taking leadership" are actually "backtracking" in battling global warming.
Without singling out specific countries, Ban said what some countries did is "quite disappointing" and called on them to "take urgent action". He pointed to the recent devastating typhoon as an alarm call.
The comments are seen as a response to decisions by some developed countries to backpedal efforts to curb carbon emissions.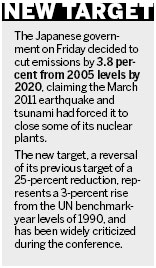 (China Daily 11/21/2013 page11)
Today's Top News
Editor's picks
Most Viewed