Explain embassy-spying claims, China tells US
Report: Australian embassies were used to secretly collect intelligence
China is demanding an explanation from the United States after a report in an Australian newspaper said Australian embassies, including the one in Beijing, were being used as part of a US-led spying operation.
The Sydney Morning Herald said on Thursday that the intelligence-collecting takes place in Australian embassies across Asia, as well as at other diplomatic missions, without most Australian diplomats knowing about it.
Chinese Foreign Ministry spokeswoman Hua Chunying told a daily news briefing in Beijing on Thurday: "China is extremely concerned about this report and demands that the US offer a clarification and explanation.
"We also demand that foreign embassies in China and their staff respect the Vienna Convention ... and other international treaties and not get involved in any activities which are not in line with their status, or harm China's security and interests."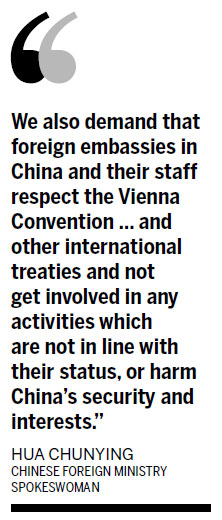 Beijing and Canberra have a consensus to increase cooperation, and both view the other as a development opportunity, Hua said.
"We hope and expect that Australia can work hard with China in this regard," she said.
The Australian report comes amid an international outcry over allegations that the US has spied on the telephone communications of as many as 35 foreign leaders.
A document from US National Security Agency leaker Edward Snowden, published this week by German magazine Der Spiegel, describes a signals intelligence program called "Stateroom" in which US, British, Australian and Canadian embassies secretly house surveillance equipment to collect electronic communications.
Those countries, along with New Zealand, have an intelligence-sharing agreement known as "Five Eyes".
Australia's Fairfax media said the Australian embassies involved are in Jakarta, Bangkok, Hanoi, Beijing and Dili in East Timor; and at High Commissions in Kuala Lumpur and at Port Moresby, Papua New Guinea.
The Fairfax report, based on the Der Spiegel document and an interview with an anonymous former intelligence officer, said those embassies are being used to intercept phone calls and Internet data across Asia.
In a statement, Indonesian Foreign Minister Marty Natalegawa said his government "cannot accept and strongly protests the news of the existence of wiretapping facilities at the US embassy in Jakarta".
"It should be emphasized that if confirmed, such action is not only a breach of security, but also a serious breach of diplomatic norms and ethics, and certainly not in tune with the spirit of friendly relations between nations," he said.
The Snowden document said the surveillance equipment is concealed, including antennas that are sometimes hidden in false architectural features or roof maintenance sheds.
Des Ball, a top Australian intelligence expert, said he has seen covert antennas in five of the embassies named in the Fairfax report.
He declined to go into further detail or name the embassies, but said that what Der Spiegel has revealed is hardly surprising or uncommon.
Many countries have routinely used embassies as bases to covertly listen in on phone calls, and reports of such surveillance have been public for decades, he said.
According to the Snowden document, the spying sites are small in size and staff. "They are covert, and their true mission is not known by the majority of the diplomatic staff at the facility where they are assigned," it said.
Reuters-Xinhua-AP
(China Daily 11/01/2013 page11)
Today's Top News
Editor's picks
Most Viewed