Putin bests Obama as most powerful person
Russian President Vladimir Putin has been named the most powerful person in the world by Forbes magazine.
According to the US business magazine published on Wednesday, Putin moved up two places from last year's rating, while US President Barack Obama dropped one place to second.
It was the first time in three years that the US president has dropped to second place on the magazine's list and came as US-Russia relations slid to a new low.
"Putin has solidified his control over Russia while Obama's lame-duck period has seemingly set in earlier than usual. Anyone watching this year's chess match over Syria and National Security Agency leaks has a clear idea of the shifting individual power dynamics," the magazine said.
Obama has just emerged scathed from an embarrassing 16-day US government shutdown caused by a budget and debt crisis in Washington.
In August, Russia granted asylum to former NSA contractor Edward Snowden, wanted in the United States over a mammoth intelligence leak.
A month later, Putin played the trump card again by averting Obama's threatened missile strikes on Syria with a plan for Damascus to hand over chemical weapons.
According to Alexei Pushkov, head of the International Committee of the State Duma, or lower house of the Russian Parliament, the Forbes list reflects the place Russia occupies in world affairs.
"Putin's first place and Obama's second speak about the role of Russia in the changing world," Pushkov said in a message posted on his Twitter account on Thursday.
Third place went to President Xi Jinping. China is set to eclipse the US as the world's largest economy.
The 72-name list includes three more Russians: Prime Minister Dmitry Medvedev (53), head of Rosneft oil company Igor Sechin (60) and businessman Alisher Usmanov (63).
Among 13 newcomers were Samsung Chairman Lee Kun-hee at No 41 and Nigerian billionaire Aliko Dangote, the richest man in Africa, in at No 64.
There were 17 heads of state who run nations with a combined GDP of $48 trillion and 27 CEOs and chairs who control over $3 trillion in annual revenues.
Only nine women made the cut despite representing half the world's population.
The 2013 list of 72 powerbrokers was chosen to reflect one for every 100 million people on Earth.
Forbes first published the list in 2009, based on influence and financial resources.
Xinhua-AFP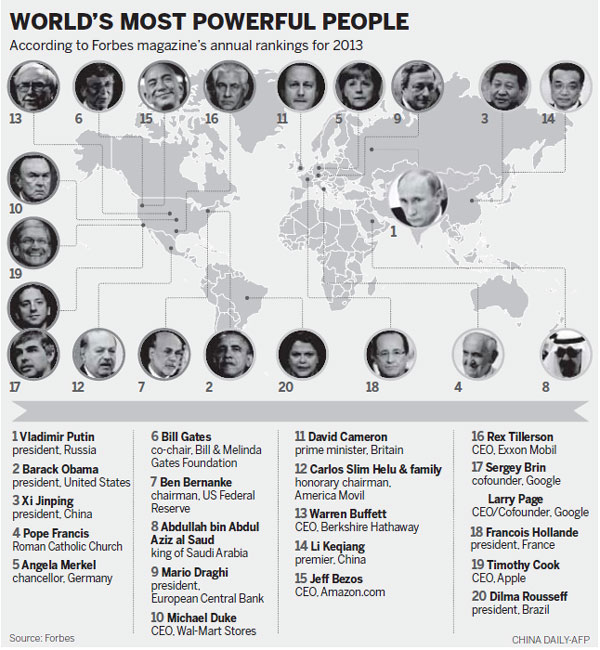 (China Daily 11/01/2013 page11)
Today's Top News
Editor's picks
Most Viewed