Security Council to meet over DR Congo
The UN Security Council is scheduled to hold emergency talks Monday on a new round of fighting in eastern Democratic Republic of the Congo, diplomats said, as government troops cleared rebels from strategic positions in the country's restive east.
North Kivu provincial Governor Julien Paluku said the country's regular army, FARDC, had taken back control of the city of Rutshuru and the rebel-held town of Kiwanja, home to a base of Congo's UN peacekeeping force. The town had been repeatedly looted by rebels.
The spokesperson for UN Secretary-General Ban Ki-moon said in a statement that the UN "remains committed to taking all necessary actions ... to protect civilians in the eastern Democratic Republic of the Congo".
France later called for an emergency meeting of the 15-member Security Council to discuss the latest crisis in the troubled region.
The rebel group M23 said it had "retreated without combat", saying it "refused to fight in Kiwanja".
In a statement, the group also threatened to pull out of stalled peace talks with Kinshasa unless there was an "immediate cessation of the hostilities".
In the town of Rutshuru, relieved residents "showered soldiers with flowers to thank them for their help" after the rebels fled, according to one local man who gave his name as Bruno.
By Sunday evening, a high-ranking Congo army officer said troops had also taken the strategic town of Kibumba, which has seen heavy fighting since clashes first broke out there on Friday. "Kibumba is under FARDC control," the source said.
Paluku, the governor, said two mass graves had been discovered in the town. He called for "an international investigation" and said army troops had been told not to touch the bodies.
A UN peacekeeping officer who did not wish to be named said there had been "numerous flights by M23 rebels" but refused to confirm that government forces were in complete control of Kibumba.
There was no immediate comment from M23 on the situation in Kibumba, about 25 km north of the regional mining hub of Goma.
Kibumba, high on a plateau at an altitude of nearly 1,800 meters, is an outpost that provides access to rebel territory further north, and has been home to M23 since a UN offensive in late August.
This latest bout of fighting comes less than a week after the breakdown of peace talks in Uganda, which both sides agreed to in 2012 after a rebel offensive saw M23 briefly take control of Goma.
The UN has since deployed a special brigade of 3,000 African troops with an unprecedented offensive mandate, but observers remain wary of an escalation that could draw in the entire region.
The UN chief's top envoys to the conflict, Martin Kobler and Mary Robinson, have voiced grave concern over the fresh fighting, calling for "maximum restraint". The United States and European Union have also voiced concerns.
But the unrest showed no signs of abating, with M23 warning in a statement on Sunday that "it will no longer tolerate another military attack on our troops' positions".
If attacked, the rebels would plan a large-scale counteroffensive against "all enemy positions", M23 communications chief Amani Kabasha said in the statement.
DR Congo's neighbor Rwanda on Friday accused the Congolese army of firing three shells over the border into its territory and threatened to retaliate.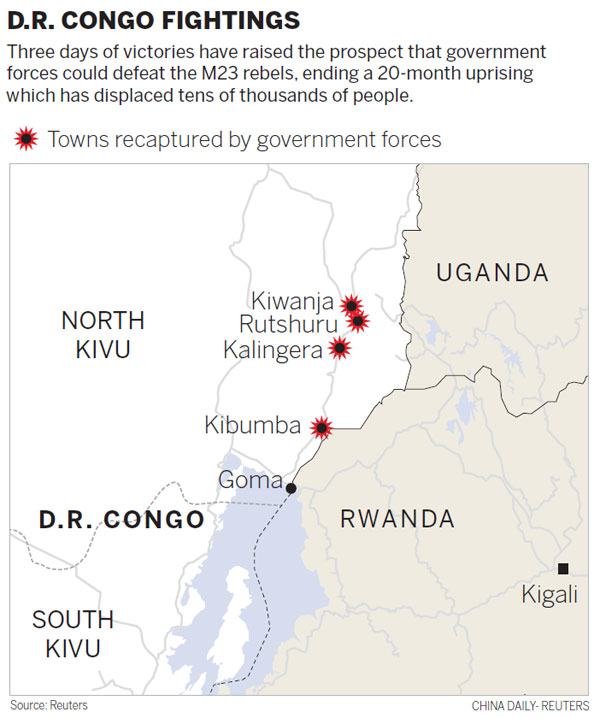 (China Daily 10/29/2013 page12)
Today's Top News
Editor's picks
Most Viewed