Snowden's father lands in Russia hoping to see son
The father of former US spy agency contractor Edward Snowden arrived in Moscow on Thursday to see his son, who was granted asylum in Russia after he leaked details of government surveillance programs and fled the United States.
Speaking at the same Moscow airport where his son was stranded for weeks this summer, Lon Snowden said he had no direct contact with Edward Snowden but that he felt "extreme gratitude that my son is safe and secure and he's free".
The younger Snowden, 30, is wanted in the US on espionage charges and Russia's decision to grant him temporary asylum aggravated already tense relations between Moscow and Washington.
Russian authorities and the Russian lawyer who is assisting Snowden, Anatoly Kucherena, have not disclosed his location.
"I am not sure my son will be returning to the US again. That's his decision, he is an adult, he is a person who is responsible for his own agency," Lon Snowden said, standing beside Kucherena at the Sheremetyevo airport.
"I am his father, I love my son and I certainly hope I will have an opportunity to see my son," Snowden said.
Edward Snowden was the source of disclosures about US government surveillance that included details about a program that collected e-mails, chat logs and other types of data from companies such as Google and Facebook.
"I really have no idea what his intentions are," Lon Snowden said, citing his lack of direct contact with his son.
But he said he believed Snowden had not been involved in the publication of any information since he arrived in Russia and was "simply trying to remain healthy and safe".
Directly from the airport, he and the lawyer drove to a state television studio to give an exclusive live interview, indicating the visit was under strong government control.
Kucherena, who said he last saw Edward Snowden on Wednesday, expressed hope the former intelligence contractor would soon find a job in Russia - possibly in IT or the human rights sector - because he has largely run out of his savings and was living modestly, mainly from donations.
He also said Snowden lived under security in Russia and was avoiding publicity because the US is chasing after him.
No handover
Snowden, who worked as a systems administrator at a US National Security Agency facility in Hawaii, fled to Hong Kong in June and then flew to Moscow. Washington annulled his passport and urged nations in Latin America and elsewhere not to take him in or help him find refuge from US prosecution.
Russian President Vladimir Putin rejected repeated US pleas to hand Snowden over but has denied Russia had any role in Snowden's disclosures or that its intelligence agencies were working with him in any way.
Reuters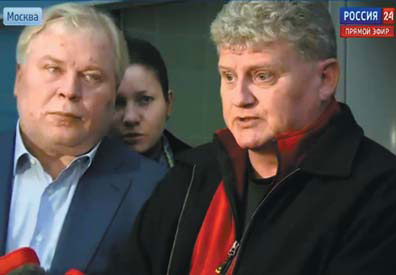 Lon Snowden (right), father of whistle-blower Edward Snowden, speaks outside Moscow's Sheremetyevo airport. He said his son is not planning to return to the United States. Provided by the Associated Press
(China Daily 10/11/2013 page12)
Today's Top News
Editor's picks
Most Viewed