Bavarians vote as Merkel looks for momentum
Voters in Bavaria went to the polls on Sunday with Chancellor Angela Merkel hoping her conservatives in the southern state would create momentum ahead of Germany's general elections in a week's time.
Polls in Barvaria opened at 8 am, with the Christian Social Union, the Bavarian sister party to Merkel's Christian Democratic Union, tipped to prevail.
The CSU has ruled Bavaria for 56 years with a winning strategy of "laptops and lederhosen" - high-tech business savvy coupled with proud tradition.
Led by outspoken state premier Horst Seehofer, the CSU is well placed to recapture the regional parliamentary absolute majority it lost in 2008.
That would allow it to drop its state coalition partners, the pro-business Free Democrats Party, and govern alone.
Such a result could give Merkel a boost as she heads into the final week campaigning for a third term at the helm of Europe's top economic power.
"In light of their brilliant poll ratings, should Seehofer and his team fail to clinch an absolute majority, it would be seen as a defeat," Sueddeutsche Zeitung reported.
"Instead of a lift for the federal coalition, it would be a drag on it."
Bild am Sonntag reported that "the eyes of politicians from all parties of Germany will be turned to the south" as the outcome of this election "will have a considerable impact on the legislative elections" on Sunday.
Some 9.5 million people are eligible to vote in the wealthy, predominantly Catholic southern region, which is home to German industrial giants such as BMW, Audi and Siemens.
Polling stations were to close at 6 pm, and preliminary results were expected a few minutes later.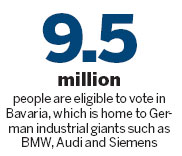 Ahead of the vote, Merkel toured the state's world-famous beer tents, favored venues for Bavarian campaign rallies, to bolster the conservatives' chances.
Bavaria is a regional powerhouse in a country that has gone from strength to strength as the eurozone debt crisis ravaged its neighbors.
State unemployment is just 3.8 percent, versus 6.8 percent at the national level, and the CSU forecasts statistical full employment by 2018, giving Bavarian voters little appetite for change, a sentiment shared by many German voters.
While the main question for the conservatives is how big they will win, the kingmaker Free Democrats Party - also Merkel's junior partner at the national level - is struggling to clear the 5-percent hurdle for seats in the Bavarian parliament.
"It will be extremely tight for the FDP," said political scientist Michael Weigl at the University of Munich, the state capital.
"Bavaria has always been tough terrain for the party, so it is highly dependent on the national trend and that is looking a bit better."
National polls give Merkel's conservatives around a 14-point lead over the main opposition Social Democrats Party.
But they are seen as having virtually no chance at power in Bavaria, with a 28-point poll deficit despite the popularity of their candidate, Munich Mayor Christian Ude.
But if Germany's current center-right government fails to clinch a majority in the general elections, the SPD could be called to form a left-right "grand coalition" under Merkel - the same alliance she led during her first, 2005-09 term.
Beyond its role in Bavaria, the CSU is also the third member of Merkel's ruling coalition in Berlin.
(China Daily 09/16/2013 page10)
Today's Top News
Editor's picks
Most Viewed