Students increasingly lured to study overseas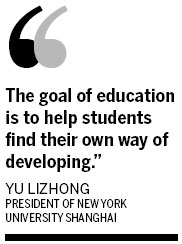 China's top universities, which once had students and parents scrambling for admission, are experiencing an embarrassing downturn in applications in the face of growing competition from overseas.
According to a recent survey by Chinese education consulting company MyCOS, the proportion of mainland students applying for top universities, such as Peking University, Tsinghua University in Beijing and Fudan University in Shanghai, is on a downward trend.
Between June 28 and July 30, MyCOS conducted an online survey of 492 students who have already received offers from universities for 2013. About 4 percent of those surveyed said they have turned down offers from the country's top universities, about 1 percentage point higher than last year.

Today's Top News
Editor's picks
Most Viewed