Third-party supervision proposed to fight SOE graft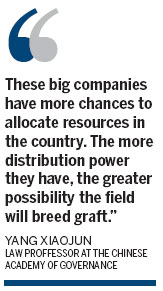 Experts have suggested bringing in third-party supervision to prevent corruption in State-owned enterprises after a senior executive of China's biggest oil company was placed under investigation for graft.
The country's top disciplinary watchdog announced on Monday that Wang Yongchun, vice-president of the China National Petroleum Corporation, is being probed for a possible "severe discipline violation" - a term that generally refers to corruption in China.
No details were given by the Central Commission for Discipline Inspection of the Communist Party of China.

Today's Top News
Editor's picks
Most Viewed