Syria under pressure after alleged chemical weapons kill hundreds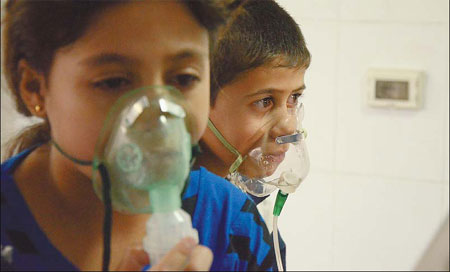 Children, affected by what Syria's opposition says was a gas attack, breathe through oxygen masks in the Damascus suburb of Saqba, on Wednesday. The opposition accused government forces of gassing hundreds of people, but Damascus flatly denied such allegations. Bassam Khabieh / Reuters
Syria on Thursday came under intense pressure to allow UN weapons inspectors to visit the site of an alleged chemical weapons attack near Damascus that the opposition says left hundreds dead and provoked revulsion around the world.
Damascus has denied the allegations but a US official cited by The Wall Street Journal said there were "strong indications" that Syrian forces had indeed unleashed chemical weapons on Wednesday during attacks on rebel zones near the capital.
China said on Thursday that UN chemical weapons experts should be objective and "fully consult" with the Syrian government in their work.
"China's position is very clear. It does not matter what side in Syria uses chemical weapons, China resolutely opposes it," the Foreign Ministry said in a statement.
"At present, the UN's chemical weapons inspection team for Syria is on the ground beginning its investigations, and China hopes that the team fully consults with the Syrian government and maintains an objective, impartial and professional stance, to ascertain what really happened."
France said it is seeking a reaction with "force" if allegations by the National Coalition, the main opposition group, of a massacre involving chemical weapons are confirmed.
The coalition said more than 1,300 people had died, while videos and photographs showed scenes of people foaming at the mouth and of bodies stacked up in morgues.
In one video posted on YouTube, children are seen receiving first aid in a field hospital, notably oxygen to help them breathe. Doctors appear to be trying to resuscitate unconscious children.
Another video showed what activists said was a case of hysteria following a chemical strike in the eastern suburbs.
Western governments demanded that a team of UN inspectors already in Syria be given access to the sites of the alleged attacks.
The head of the UN inspection mission, Aake Sellstroem, was in talks with Damascus "on all issues pertaining to the alleged use of chemical weapons, including this most recent reported incident", a UN statement said.
White House spokesman Josh Earnest demanded the inspectors be given "immediate access to witnesses and affected individuals" and "the ability to examine and collect physical evidence without any interference or manipulation from the Syrian government".
Washington has previously described chemical weapons use as a red line that might prompt it to intervene militarily in Syria.
AFP - Reuters
(China Daily 08/23/2013 page10)
Today's Top News
Editor's picks
Most Viewed