Floods in Liaoning leave 54 dead after 3 days' rain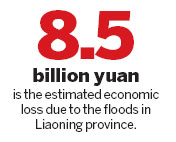 Floods in Northeast China's Liaoning province, triggered by downpours from Thursday to Saturday, have left 54 people dead and 97 others missing, according to the Liaoning Civil Affairs Bureau on Monday.
About 162,000 people were evacuated and 1.8 million were affected by the floods, the bureau said.
On Monday, President Xi Jinping and Premier Li Keqiang issued instructions about flood relief work, calling for all-out rescue efforts and stressing the need to always put people's lives and safety first.

Today's Top News
Editor's picks
Most Viewed