Abe rules out visit to Yasukuni shrine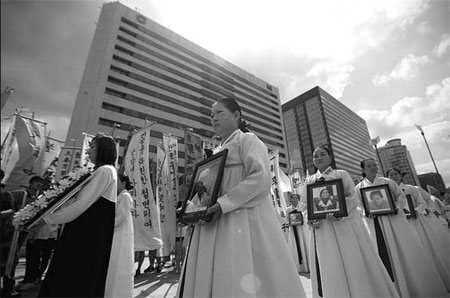 Participants carry portraits of Korean women who were forced into sexual slavery by the Japanese military during World War II during a requiem ceremony for former comfort woman Lee Yong-nyeo in central Seoul on Wednesday. Kim Hong-Ji / Reuters
Japanese Prime Minister Shinzo Abe has decided not to visit the war-linked controversial Yasukuni Shrine on Thursday, the 68th anniversary of Japan's surrender in the World War II, local media reported.
Instead, Abe may make a ritual offering to the shrine, and any offering would be only as president of the Liberal Democratic Party and not as prime minister, Japan's NHK Television reported.
Powerful conservative groups expect the Japanese leader to visit the shrine on the anniversary. The shrine honors 14 class-A war criminals.
But Abe wants to avoid paying a heavy diplomatic price by angering Japan's neighbors who were victimized by his country in World War II, observers said.
"The prime minister made the decision not to visit the controversial shrine after considering Japan's own national interests in diplomacy with China and South Korea," said Zhang Boyu, deputy director of the department of Japanese political studies at the Chinese Academy of Social Sciences' Institute of Japanese Studies.
Beijing urges Tokyo to "honor its commitment" of admitting and reflecting on its history of aggression, Foreign Ministry spokesman Hong Lei told China Daily on Wednesday.
Japan should "restrain its remarks and behavior with precaution in relevant issues to win the trust of people from victimized Asian countries and the world", Hong said.
Japan's Kyodo News Agency defines the shrine as "a symbol of Japanese past militarism". Visits to the shrine by Japanese officials have sparked outcries, most notably in China and South Korea, both of which suffered under a brutal Japanese wartime occupation.
Yet conservative groups, including the Nippon Izokukai, have long encouraged government officials to visit the shrine.
Japan's leading media have not attributed Wednesday's latest update of the prime minister's decision to any source, and neither the prime minister's office nor the party's headquarters would confirm the media reports, Reuters said.
Before Japan's lower house election in December, Abe expressed "great regret" about not visiting the shrine during his first term as prime minister in 2006-07. Japanese media labeled such remarks as efforts to win the hearts of radical voters.
But the conservative party leader has since changed his attitude about a shrine visit and voiced ambiguity about it after the party's landslide victory in the upper house election in late July.
On Aug 6, the prime minister publicly refused to answer a question about whether he will visit the shrine on the anniversary of Japan's surrender.
"Not paying tribute to the shrine does not necessarily mean Abe has given up his right-wing pursuits. His previous remarks about his not visiting the shrine reflects the ingrained wish deep in his heart," Zhang said.
The conservative ruling party now holds the majority in both the upper and lower houses, a situation that critics say has given the Abe Cabinet a bigger say in forming diplomatic policies.
Zhou Yongsheng, a Japanese studies expert at China Foreign Affairs University, said Abe is now tweaking his policies regarding China and South Korea "with less fear of the pressure being exerted by the right-wing radical voters.
"But we should never consider such maneuvers as a major change in policies toward China. The hawkish prime minister will continue showing toughness in issues involving his country's interests, such as territorial disputes," Zhou said.
The Japanese government made a unilateral, illegal "purchase" of part of China's Diaoyu Islands in the East China Sea in September, leading to deteriorating ties with China.
As a prominent political figure famous for his conservative and pragmatic style, Abe is seeking to repair Japan's relationship with China and revive his nation's economy, Zhou said.
Meanwhile three prominent Cabinet members are likely to visit the sensitive shrine on Thursday, local media reported.
Administrative Reform Minister Tomomi Inada, Internal Affairs and Communications Minister Yoshitaka Shindo, and Keiji Furuya, chairman of the National Public Safety Commission, have signed up for approval from the prime minister's office, Japan's Fuji Television reported on Wednesday.
zhangyunbi@chinadaily.com.cn
(China Daily 08/15/2013 page11)
Today's Top News
Editor's picks
Most Viewed