Rare earth alliance to fight Japan's patent barrier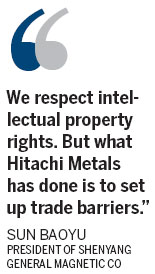 A dozen Chinese rare earth companies have formed an industrial alliance to sue Japan's Hitachi Metals for holding invalid patents and infringing patent rights of Chinese companies.
The legal process could start in early September in the United States and China.
At the center of the dispute is something called a neodymium iron boron magnet, a major product that accounts for half of rare earth consumption.

Today's Top News
Editor's picks
Most Viewed