Morsi supporters dig in as Egypt talks stall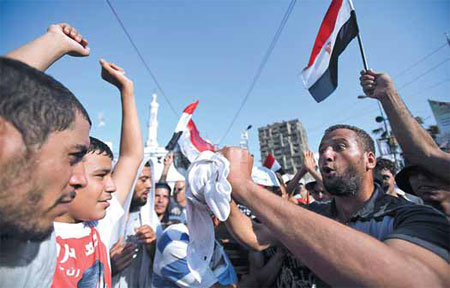 Members of the Muslim Brotherhood and supporters of deposed Egyptian President Mohammed Morsi shout slogans during a protest on Wednesday at Rabaa Adawiya Square, where they are camping, in Nasr City, east of Cairo. Amr Abdallah Dalsh / Reuters

Islamist supporters of ousted Egyptian president Mohammed Morsi continued to demand his restoration on Thursday after the military-led authorities that removed him held off from carrying out a threat to clear protest sit-ins by force.
Interim President Adly Mansour declared on Wednesday that international diplomatic efforts to resolve the political crisis had failed, and the government warned protesters to leave their protest camps, saying the decision to remove them was final.
US and European Union envoys left Cairo on Wednesday after the breakdown of their attempts to broker a solution, which had also involved Qatar and the United Arab Emirates.
However, a person involved in the mediation effort said the authorities and Morsi's Muslim Brotherhood might yet step back from confrontation and implement mutual confidence building steps that could lead to a negotiated settlement.
"It's not over yet," the diplomat said. "It could work but we don't have any guarantees. Everything is very fragile."
Egyptian government and military sources also said the talks were not finished for good but had been frozen to assuage public anger over perceived foreign interference in Egypt's affairs and the authorities' willingness to negotiate with the Brotherhood after months of demonizing them.
A military source said the authorities were holding back from using force to clear the protest camps partly due to fear that liberal Vice-President Mohamed ElBaradei would resign, removing a key source of political legitimacy for army rule. Interim Prime Minister Hazem el-Beblawi visited the Central Security Forces with the interior minister in an apparent effort to calm hardliners impatient for tougher action.
"He assured them that the government places security at the top of its priorities and that there is no stable society without security that is founded on the law, and that protects the sovereignty of the state and the lives of its citizens and their possessions," a statement from Beblawi's office said.
Festive protests
Thousands of demonstrators converged on a Brotherhood protest camp in northeastern Cairo in a festive atmosphere to attend prayers and a rally on the first day of the Eid al-Fitr holiday after the end of the fasting month of Ramadan.
"I came here because I want to make a small difference," said Ghada Idriss, who traveled from the rural province of Minya by car with her husband, two young sons, and 2-month-old daughter Lougine.
"By sitting here peacefully, they will understand and know that we refuse the return of the system of Hosni (Mubarak)."
Secular and leftist groups have also called for mass demonstrations and public prayers across Egypt to support what they see as a popular revolution that led to the overthrow of Morsi by the military on July 3 after just a year in office.
In one apparent conciliatory gesture, prosecutors dropped the main charge against the head of the Brotherhood's political wing, Saad El-Katatni, on Wednesday in a possible prelude to releasing him.
The person involved in the mediation effort said a sequence of statements and confidence building measures aimed at reducing tensions and reassuring public opinion might yet lead to direct or indirect negotiations between the two sides.
So far, the Brotherhood has refused to accept what it calls an illegal coup against Morsi and has publicly demanded the return of the elected president, who is detained at a secret location.
The new authorities have accused Islamist leaders of inciting violence, frozen the Brotherhood's assets and vowed to put them on trial.
Train has departed
"The train of the future has departed, and everyone must realize the moment and catch up with it, and whoever fails to realize this moment must take responsibility for their decision," interim president Mansour said in an Eid broadcast.
Diplomats have said any settlement would have to involve a dignified exit for Morsi, Brotherhood acceptance of the new disposition, the release of political prisoners arrested since the takeover and a future political role for the Brotherhood.
The United States and the EU said on Wednesday they were very concerned that the Egyptian parties had not found a way to break what they called a dangerous stalemate.
Reuters
(China Daily 08/09/2013 page12)
Today's Top News
Editor's picks
Most Viewed