Paris attacks raise concerns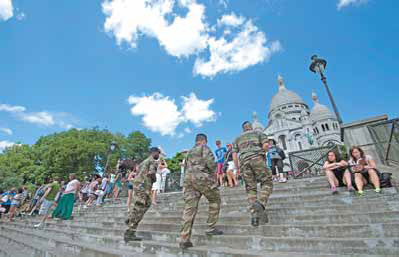 Soldiers patrol Montmartre in Paris on Saturday. The French capital has seen a spike in attacks on tourists. Miguel Medina / Agence France-Presse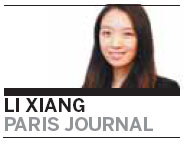 Police have increased their presence on the streets of Paris following a series of robberies and violent attacks on tourists and visitors, including Chinese citizens.
The surge in crime has raised safety concerns among Chinese tourists - the world's top spenders - and tarnished the French capital's image.
Petty crimes against Chinese nationals increased 22 percent in the first quarter compared with a year earlier, a Paris police official was quoted by Reuters as saying.
The French government has beefed up security, putting an extra 200 police officers on patrol around major tourist sites, including the Louvre museum and the Eiffel Tower.
During a recent inspection tour, French Interior Minister Manuel Valls and Tourism Minister Sylvia Pinel reassured visitors from around the world that Paris is a safe city.
Police will be on 24-hour guard at major tourist sites, with the strongest presence from noon to 8 pm, according to a police officer who was patrolling the Eiffel Tower area and asked not to be named.
"Many tourists, especially Asian visitors, tend to carry a lot of cash with them, and we always advise them not to do so," he said. But he admitted that it is difficult for the police to "catch and arrest" thieves as they are often underage teenagers from Eastern Europe and are "clever" at stealing.
Chinese tourists were the world's biggest spenders in 2012, accounting for 25 percent of all tax refund claims made with Global Blue, a Switzerland-based shopping tourism company.
A total 1.4 million Chinese people visited France last year, an increase of 23 percent from 2011. Though France has been a favorite destination for Chinese shoppers, a group of 75 French luxury brands, including Chanel, Louis Vuitton and Hermes, have warned that Chinese buyers may prefer London or Milan instead because they view Paris as dangerous.
Wang Yuan, first secretary of the consular office at the Chinese embassy in France, said the embassy has demanded the French authorities improve the protection of Chinese tourists in France.
Despite the surge of crimes against tourists, France ranked top in the world for the number of foreign tourists visiting in 2012, according to the rankings of the United Nation's World Tourism Organization.
In order to improve the protection of tourists, the city recently issued a six-language guide to staying safe in Paris, which informs visitors on how to avoid becoming a target of crimes such as pickpocketing and street robberies, and what to do if one falls victim to an assault or theft.
Contact the writer at lixiang@chinadailiy.com.cn
(China Daily 08/08/2013 page10)
Today's Top News
Editor's picks
Most Viewed