Commission sets no timetable for family planning update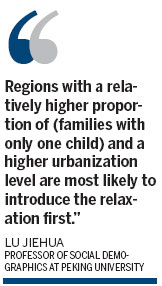 The National Health and Family Planning Commission moved on Tuesday to allay concerns in media reports last week that China will relax its family planning policy by 2015 to allow more couples to have two children.
The commission said no timetable has yet been determined and instead said the new plan will be carried out "at the proper time".
The commission, however, did confirm media reports that an update is on its way. In the new plan, couples will be allowed to have a second child if at least one parent has no siblings.

Today's Top News
Editor's picks
Most Viewed