Chinese tourists told to polish up on etiquette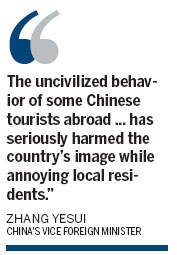 Chinese authorities are aware of the serious consequences of improper behavior by fellow countrymen overseas and are working to provide better education for those abroad in the hopes of improving the tarnished image.
A government-organized teleconference on Wednesday called on authorities to guide people to abide by public order and social customs, respect local religious beliefs and not to litter or spit on the ground.
According to Chinese Education Minister Yuan Guiren, more than 1.55 million Chinese students study overseas, and he said it is necessary to enforce education on etiquette and civic morals.

Today's Top News
Editor's picks
Most Viewed