Health officials launch probe of qigong 'master'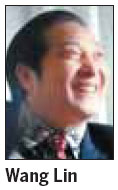 Health authorities in Luxi county, Jiangxi province, are investigating Wang Lin, a self-proclaimed qigong master who has a lot of celebrity followers, on suspicion of illegally practicing medicine.
According to the Luxi health bureau, Wang does not have a license to run a medical institution and is not qualified to practice medicine.
A local official confirmed that an investigation team had been formed but was not willing to disclose details on Monday.

Today's Top News
Editor's picks
Most Viewed