Abe seeking to win over ASEAN nations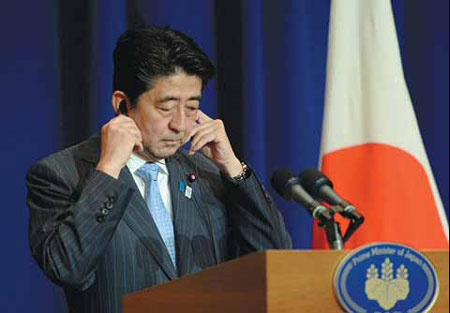 Japanese Prime Minister Shinzo Abe pledges continued support for Philippine maritime forces in Manila on Saturday. Ted Aljibe / Agence France-Presse
Region is emerging as new economic and strategic focus for Tokyo, experts say
Southeast Asia is emerging as a new strategic and economic focus for Tokyo, which is eager to dilute Beijing's influence in the region, said experts commenting on Japanese Prime Minister Shinzo Abe's recent visit to Malaysia, Singapore and the Philippines.
The three-day trip, which started on Thursday, came days after Abe's ruling coalition sealed a decisive victory in elections for the upper house of Japan's parliament, or Diet. It is also Abe's third visit to Southeast Asia since taking office in December.
Observers said an anxious Abe is trying to seek a diplomatic breakthrough in Southeast Asia in the face of deadlock with Beijing and Seoul, and the three countries on his itinerary - Malaysia, Singapore and the Philippines - represent the three pillars of Abe's diplomacy: the economy, strategy and the military.
According to Lian Degui, deputy director of the Japanese Studies Center at the Shanghai Institutes for International Studies, Japan eyes member states of the Association of Southeast Asian Nations as important economic partners that are subject to its political influence and considers the region critical to its security concerns.
"China has surpassed Japan as the most important economic partner for ASEAN countries over the years, while Japan is trying to sow discord within this growing positive momentum between China and ASEAN by wooing related countries through so-called value-oriented diplomacy," Lian said.
Deepening economic cooperation was said to be at the top of Abe's agenda. During his brief visit, he signed a series of economic cooperation contracts and reached agreement on promoting Trans-Pacific Partnership trade negotiations with related countries.
However, observers said that behind Abe's urgent economic demands are more important strategic objectives regarding Southeast Asian nations.
"Since countries like Singapore and the Philippines do not have much of an economic connection with Japan, the whole economic rhetoric is there to disguise Abe's political intention, which is containing China by diluting China's influence in the area," said Zhang Ji-feng, a researcher at the Chinese Academy of Social Sciences.
During his meeting with Philippine President Benigno Aquino III in Manila on Saturday, Abe pledged continued support for Philippine maritime forces by providing a concessional loan to build 10 coast guard patrol boats.
"For Japan, the Philippines is a strategic partner with whom we share fundamental values and many strategic interests," Abe said, adding that his visit was intended "to strengthen relations with the Philippines in all areas", including politics, security and the economy.
Lian said a military alliance with Manila will give Abe an good excuse to interfere with China's maritime enforcement in the East and South China Seas, given the strategic significance of Southeast Asia.
Sino-Japanese ties have worsened since Japan illegally nationalized parts of China's Diaoyu Islands in the East China Sea in September. Meanwhile, some member states of the ASEAN, such as the Philippines and Vietnam, are involved in island-related disputes with China in the South China Sea.
At a news conference in Manila, Abe said Japan's problems with China were "inevitable" because they were neighbors, but he stressed that peaceful coexistence between the two regional powers was crucial for Asian peace and prosperity.
"It is important that we have frank and candid discussions. I have given instructions such that the foreign affairs authorities can proceed with dialogue without any conditions attached. Foreign minister-level and leader-level meetings should be held promptly," he said.
Experts said that Abe has been paying lip service to improving relations with China for a long time and that his message was a response to domestic demands and an attempt at gaining support from ASEAN countries.
Wang Kepu, a researcher in Japanese studies at Shanghai Jiao Tong University, said that since the parliamentary elections, Japanese society, and particularly the business community, has been calling for a mending of ties with China, so Abe's comment was an attempt at pacifying domestic sentiment.
"Also, Abe is trying to shift the responsibility of deteriorating China-Japan relations onto Beijing by winning media support in Southeast Asian counties through these frequent dialogue signals," Wang said.
However, Abe's frequent diplomatic moves in Southeast Asia have not prompted enthusiastic responses from regional leaders and media.
During Friday's meeting with Abe, Singaporean Prime Minister Lee Hsien Loong said he hopes that countries with disputes over sovereignty in the South China Sea will manage their differences peacefully and in accordance with international law.
An influential newspaper in Japan, The Mainichi Shimbun, on Thursday also warned of Tokyo's possible "alliance" with certain ASEAN nations to keep China in check, saying, "Japan needs to be aware that ASEAN, whose countries want to continue to grow economically, places the greatest importance on upholding peace and stability in the area."
AFP contributed to this story.
puzhendong@chinadaily.com.cn
(China Daily 07/29/2013 page12)
Today's Top News
Editor's picks
Most Viewed