State Council gives approval to tough air emissions plan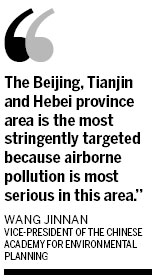 China's environment watchdog recently issued its most comprehensive and toughest plan to control and in some regions reduce air pollution by the year 2017, setting stricter limits on the levels of PM 2.5 particles.
Zhao Hualin, head of the pollution prevention and control department of the Ministry of Environmental Protection, said on Wednesday that the State Council approved the plan last month.
The Airborne Pollution Prevention and Control Action Plan (2013-17) will be the second plan to tackle pollution in the past two years and will be backed by 1,700 billion yuan ($277 billion) in total investments from the central government.

Today's Top News
Editor's picks
Most Viewed