Sticking up for sustainability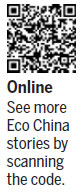 Liyuan Library integrates architecture into the natural landscape using traditional Chinese architectural concepts. Sun Yuanqing reports.
Rows of firewood are the first impression of Liyuan Library, which sits beside a pond surrounded by mountains in the Huairou district of Beijing. On a day when the tranquility is broken only by birdsong, it is "a setting for clear thoughts" as the building's designer describes it.
Designed by Chinese architect Li Xiao-dong, the library was one of the winning designs in the 2013 Architecture of Necessity competition held in Sweden in June, making it the first Chinese project to claim the honor.

Today's Top News
Editor's picks
Most Viewed