Poultry-related firms hit by virus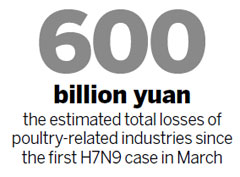 The latest case of H7N9 confirmed on July 20 in Beijing is expected to delay further the financial recovery of poultry-related companies.
The 61-year-old female patient from Langfang, Hebei province, is still in a critical condition after being infected with the virus, which was the only diagnosed case in China in July.
In April, the government closed many markets in some areas, including Zhejiang and Jiangsu provinces, to prevent the spread of the disease. They began to reopen from the end of June.

Today's Top News
Editor's picks
Most Viewed