Calls mount for Morsi's release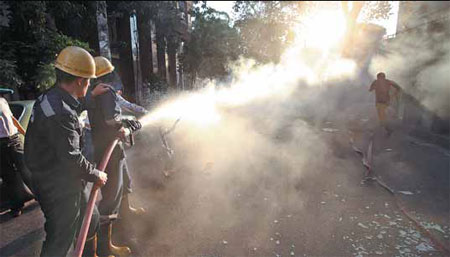 Egyptian firefighters extinguish a burning scooter that was set on fire during clashes between opponents and supporters of ousted president Mohammed Morsi in Cairo on Monday. Clashes broke out near Cairo's Tahrir Square and in Qalyub, on the capital's outskirts, where at least one person was shot to death, security officials said. Hussein Malla / Associated Press
Pressure grew on Egypt's new leaders on Tuesday to release Mohammed Morsi from detention, as clashes between supporters and opponents of the deposed Islamist president left 10 people dead.
The deadly clashes, which also wounded dozens, broke out on Monday and were continuing on Tuesday, a day after Morsi's family vowed to sue the military over his ouster.
At least six people were killed early on Tuesday when opponents of Morsi attacked supporters of the deposed president who were staging a sit-in near Cairo University, state media reported.
Morsi's family told a news conference on Monday they will take legal action against the military for having "kidnapped" the elected president after he was deposed on July 3.
Egypt's new leadership says Morsi is in a "safe" place for his own good.
Calls for Morsi to be released have also been issued by the United States, Germany, the United Nations and the European Union, which called again on Monday for the Islamist leader to be freed.
"It is now of utmost importance that Egypt embarks on a transition, allowing a transfer of power to a civilian-led and democratically elected government," EU foreign ministers said in a statement.
They listed demands, including "the release of all political detainees, including Mohammed Morsi" - reiterating remarks EU foreign policy chief Catherine Ashton made last week in Cairo.
Morsi's Muslim Brotherhood movement has also vowed to sustain protests until his reinstatement and to refuse to recognize the interim government installed by the military ahead of new elections early next year.
Tuesday's violence came a day after Morsi's supporters marched on the US embassy, setting off a gunfight with opponents in nearby Tahrir Square that killed one protester.
Later in Qalyub, north of Cairo, street battles killed three people, one of them run over by a train as he tried to escape the violence.
As violence billowed, interim President Adly Mansour appealed in a late Monday speech for a "new page in the book of the history of the nation, without rancor, hatred and confrontation".
But Morsi's detention, and subsequent arrests of senior Brotherhood leaders, have hardened his supporters against dealing with the new regime.
Morsi's son Osama said the family had not heard from him since his overthrow.
Earlier this month the UN's High Commissioner for Human Rights, Navi Pillay, summoned Egypt's ambassador to Geneva and wrote the new authorities in Cairo demanding explanations over Morsi's arrest.
Although mostly peaceful, the pro-Morsi protests have resulted in deadly clashes, with the unrest claiming more than 100 lives, according to AFP.
In the bloodiest single incident, at least 53 people died, mostly Morsi supporters, during clashes with soldiers outside the elite military barracks where they believed Morsi was being held.
Violence has also swept the restive Sinai Peninsula, where militants have stepped up deadly attacks on security forces since Morsi's ouster, including one on Monday that killed a police officer and a civilian.
AFP-Reuters
(China Daily 07/24/2013 page12)
Today's Top News
Editor's picks
Most Viewed