A shot in the arm for Sino-US ties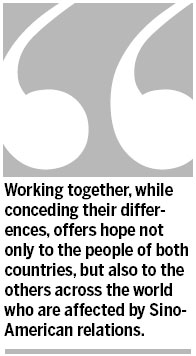 At the time of the historic meeting between Chinese President Xi Jinping and his US counterpart Barack Obama in Sunnylands, California, many wondered if the pronouncements of personal bonhomie and mutual bilateral cooperation were mere diplomatic niceties papering over irreconcilable differences, or truly the start of a new, more positive, relationship between the dominant power, the US, and the rising power, China.
Now with the conclusion of the fifth Strategic and Economic Dialogue, the first fruits of that tie-less encounter are appearing, and the harvest looks promising.
While some cynical observers claim that the only major flowering of the new Sino-American relationship at the S&ED was the fast-tracking of a Chinese garden in Washington's National Botanical Garden, I wholeheartedly disagree.

Today's Top News
Editor's picks
Most Viewed