DPRK breaks silence on arms shipment, calls them 'legitimate'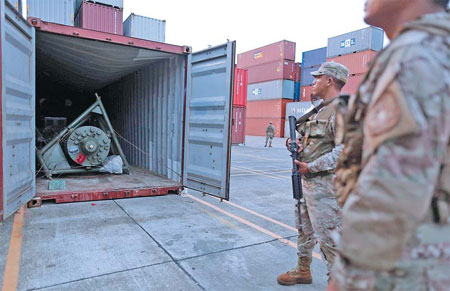 Panama police officers stand guard over a container holding a green missile-shaped object seized from the DPRK ship Chong Chon Gang at the Manzanillo Container Terminal in Colon City on Wednesday. Cuba said the weapons were being sent back to Pyongyang for repair and included two anti-aircraft missile batteries, nine disassembled rockets, two MiG-21 fighter jets and 15 MiG-21 engines, all former Soviet-era military ordnance built in the middle of last century. Carlos Jasso / Reuters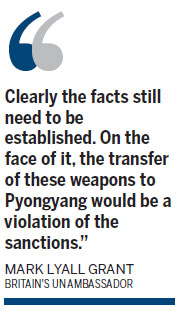 The Democratic People's Republic of Korea has broken its silence over a ship carrying arms that was seized by Panama, demanding the vessel's release as its crew refuses to cooperate with investigators.
Pyongyang rebuffed suspicion that the cargo contravened United Nations sanctions, saying the shipment on the DPRK-flagged vessel was part of a legitimate deal with Cuba.
Havana said the military equipment, discovered on the Chong Chon Gang among tons of sugar, was "obsolete" former Soviet-era missiles and parts that were being sent to the DPRK for repair - an account echoed by Pyongyang.
"This cargo is nothing but aging weapons that are to be sent back to Cuba after overhauling them according to a legitimate contract," said a foreign ministry statement carried by the DPRK's Korean Central News Agency.
"The Panamanian authorities should let the apprehended crewmen and ship leave without delay," added the statement, the DPRK's first on the affair.
Panamanian prosecutor Javier Caraballo told reporters late on Wednesday that the DPRK sailors may face jail for transporting arms illegally.
"This type of behavior could carry a sentence of between four and six years," he said, noting that the crew is staying silent.
"They took up their right not to testify," he said, standing next to the seized ship in Manzanillo.
Panama said on Monday it had discovered the shipment after impounding the vessel. The ship's captain tried to kill himself and the crew rioted, according to Panama's president.
On Wednesday Panama officially requested UN inspectors scrutinize the cargo.
"The cargo is illegal because it was not declared. Anything that is not logged, even if it is obsolete, is contraband," Panamanian Security Minister Jose Raul Mulino said.
UN diplomats said strict arms sanctions imposed on the DPRK over its nuclear program could have been breached.
"Clearly the facts still need to be established," Britain's UN ambassador Mark Lyall Grant said. "On the face of it, the transfer of these weapons to Pyongyang would be a violation of the sanctions."
Cuba says the cargo comprised missile parts and spares, MiG-21 aircraft parts and 15 plane motors, all manufactured "in the mid-20th century" and "to be repaired and returned to Cuba".
The Republic of Korea welcomed the seizure, while media in Seoul reported that the Chong Chon Gang was detained in Ukraine three years ago for carrying narcotics and other contraband.
In Washington, US State Department spokeswoman Marie Harf said the United States would raise the issue with Havana "very soon".
Analysts said the seizure shone a spotlight on a secretive barter trade where Pyongyang repairs military equipment in exchange for food.
Defense and security consultants IHS Jane's said it was possible the shipment had been on its way to the DPRK for an upgrade, as Cuba insists.
"In this case, it would likely be returned to Cuba and the cargo of sugar could be a payment for the services."
AFP-Reuters
(China Daily 07/19/2013 page12)
Today's Top News
Editor's picks
Most Viewed