Singapore to widen its RMB liquidity pool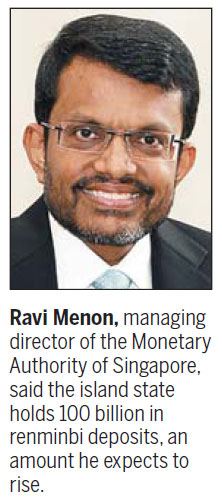 Singapore's central bank governor says the island state plans to widen its liquidity pool of the Chinese currency as part of extended efforts to turn itself into a major offshore yuan market.
Ravi Menon said the country is also developing hedging instruments as part of these efforts.
"The critical factors that will determine how well Singapore develops as an RMB hub are liquidity and a range of hedging products," said Menon, managing director of the Monetary Authority of Singapore, the central bank and financial regulatory authority.

Today's Top News
Editor's picks
Most Viewed