Morsi agrees to build coalition govt as army deadline expires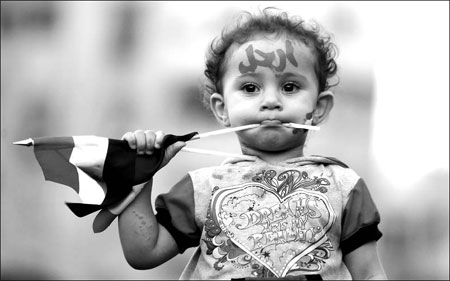 A girl with the colors of the Egyptian flag and the word "leave" painted on her face is seen during a demonstration against Egyptian President Mohammed Morsi in front of the presidential palace in Cairo on Tuesday. Amr Abdallah Dalsh / Reuters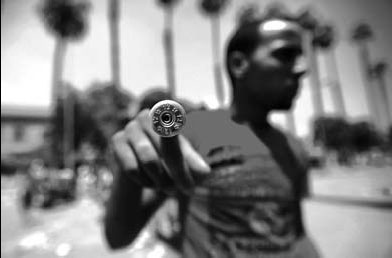 A supporter of Morsi shows a spent shell after night clashes with anti-Morsi protesters in Cairo on Wednesday. At least 16 people were killed and 200 wounded during the clashes. Amr Abdallah Dalsh / Reuters
Egypt's President Mohammed Morsi said on Wednesday that he would commit to his own roadmap of building a coalition government and setting up a panel for amending the constitution, while warning against any other scenarios.
He said so on his official Facebook page on Wednesday afternoon as the army's 48-hour ultimatum given to him and his political rivals to find a solution to the ongoing division expired.
"The vision of the presidency is to hold a coalition government based on consensus to run the upcoming parliamentary elections and form an independent committee for constitutional amendments to be presented to the coming parliament," Morsi said.
The presidency renews its own roadmap and invites all national forces for dialogue to achieve a comprehensive national reconciliation, Morsi said, noting that "transgressing constitutional legitimacy threatens the deviation of democratic practice from its right path".
"Legitimacy is the only guarantee for stability and resistance of acts of violence," he said
Earlier, Morsi's hardline Islamist allies in al-Gamaa al-Islamiya want him to call a referendum on early presidential elections to avoid bloodshed and a military coup, Tarek al-Zumar, a senior member of the group, said on Wednesday.
The former armed group that is one of Morsi's few remaining allies has been advising the head of state to call for the vote in the two days since the army issued a deadline for politicians to resolve the political conflict by Wednesday.
"We find ourselves faced with the necessity of convincing the president to accept a referendum on early presidential elections," Zumar said. "This is what we hope will be reached in the next few hours."
Morsi did not propose the idea of an early presidential election in a speech to the nation on Tuesday, calling instead for parliamentary polls.
"This peaceful, constitutional transfer (of power) will spare blood," Zumar said, adding that it would also protect the constitution that was passed into law in December.
He said the army's statements appeared to presage a coup, but this "can be avoided if the president decides to hold a referendum on early presidential elections".
Meanwhile, Morsi refused to quit hours before the army ultimatum expires on Wednesday.
In a televised address early on Wednesday, the embattled Islamist leader said he had been freely elected to lead the troubled nation little more than a year ago and intended to stick to his task.
The only alternative to respecting the constitutional legitimacy of the office was further bloodshed on the streets, he warned, adding that he stood ready to "give my life" to defend constitutional legitimacy.
Only hours after Morsi's speech, the health ministry reported that unidentified gunmen had killed 16 people and wounded about 200 more after opening fire on a rally by his supporters in Cairo.
With a showdown looming between Morsi and the army, Egypt"s military chiefs said on Wednesday they were ready to die to defend the people of Egypt.
"The general commander of the armed forces said it was more honorable for us to die than to have the people of Egypt terrorized or threatened," said a statement called "The Final Hours" posted on a page associated with the army.
xinhua-Reuters-AFP
(China Daily 07/04/2013 page11)
Today's Top News
Editor's picks
Most Viewed