Ministry drafts child welfare system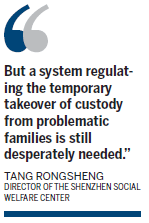 China will gradually build a comprehensive child welfare system to provide universal welfare protection to children, who are categorized into four types depending on their living circumstances, under a draft plan from the Ministry of Civil Affairs.
Children will be identified as orphans, in plight, from underprivileged families or from ordinary families. Each will be offered different standards of welfare services, the plan said.
More specifically, children in plight include those who are homeless, disabled or have serious illness. Children from underprivileged families are those whose parents are poverty-stricken, seriously disabled or ill, serving long prison sentences, are in compulsory drug rehabilitation, or single parents unable to raise the child alone.

Today's Top News
Editor's picks
Most Viewed