China, India should handle border dispute in strategic manner, Li says
China and India, which have one of the world's most important bilateral relationships, should deal with their border dispute from a strategic and overall perspective to avoid damaging ties, Premier Li Keqiang said on Friday.
Li made his comments while meeting Indian National Security Adviser Shiv Shankar Menon.
Menon and Chinese State Councilor Yang Jiechi are attending the border talks - known as the 16th meeting between special representatives on Chinese-Indian border issues - from Friday to Saturday.
"Being strategic partners and friends, China and India can be open about the problems between each other, and have enough wisdom to resolve differences. The two sides can enhance communication, narrow the differences, and make efforts together to maintain the peace in the border region," Li said.
Li added that he hopes the special representatives from both countries work closely to strengthen the guidance on the issue, to accelerate the border negotiations, and to contribute more to the development of the two countries' relations.
"Both countries need peace and a stable surrounding environment. The cooperation between China and India will only move forward, it will not or cannot stop," Li said.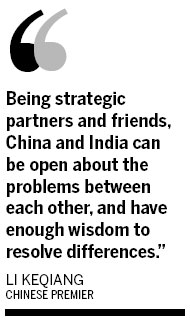 China is willing to work with India to push the development of the economic corridor linking Bangladesh, China, India and Myanmar, to improve regional trade and to make Sino-Indian cooperation a global growth engine, the premier said.
Menon also handed over a letter from Indian Prime Minister Manmohan Singh to Li.
He said the Chinese premier made a monumental visit to India in May, which brought new historic opportunities for cooperation.
India is willing to maintain high-level exchanges with China, to boost strategic communication, and to expand and deepen cooperation in various fields, he added.
"India will deal with the border issue through friendly consultations, which can bring a greater development of the two countries' relations," Menon said.
The border issue - a barometer of the two countries' relations - has been an important factor for bilateral ties, said Ma Jun, a researcher with the Academy of Military Science of the People's Liberation Army.
"Disputes or incidents between the two sides along the border area are often over-read by media and the public," Ma said. "But both sides are handling the issue reasonably. The border issue is a real problem but will not have a strong impact on relations."
The expert added that this week's talks are a necessary step to handle the matter.
"The border issue is a leftover from history, which can't be solved easily," Ma said. "The talks can create a good environment and an efficient mechanism to make certain agreements before reaching the final solution."
zhaoyanrong@chinadaily.com.cn
(China Daily 06/29/2013 page7)
Today's Top News
Editor's picks
Most Viewed