After the liquidity crunch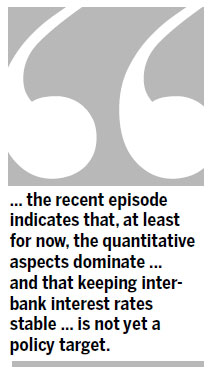 The standoff between the People's Bank of China and China's banks, and the resulting "liquidity crunch", has far-reaching implications for credit and liquidity, financial stability, monetary policy and the economic outlook. The potential for broad impact was underscored when the stock market witnessed a "black Monday" on June 24 partly because a June 23 statement of the PBOC suggested a continued hard-line stance, before some relief was provided by a more accommodating June 25 statement.
The liquidity crunch on the inter-bank market largely resulted from a misunderstanding between the markets and the PBOC about the central bank's policy and implementation.
The misunderstanding arose because concerns among some policymakers about too rapid credit growth and financial risks, suggested a need for tighter policy at the same time as lower economic growth called for easier policy. Given the tighter conditions and remaining uncertainty, the inter-bank market is likely to remain tight and nervous in the coming weeks, with repayment risk being sizeable. Even though the inter-bank market should normalize gradually after that, the banks will probably become more prudent with lending and liquidity going forward, and "non-bank" lending activity and mid-sized banks reliant on wholesale funding are likely to be especially affected.

Today's Top News
Editor's picks
Most Viewed