ROK president's visit could pave way for nuclear talks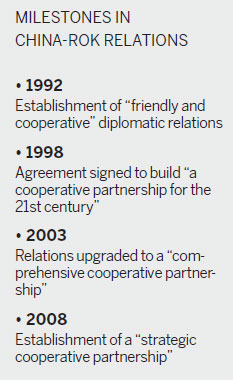 Republic of Korea President Park Geun-hye's ongoing visit to China is historic in terms of building trust and paving the way for strategic discussions that can ease tensions on the Korean Peninsula, said ROK Foreign Minister Yun Byung-se recently.
Yun made these remarks during a luncheon meeting in Seoul with former Chinese State Councilor Tang Jiaxuan that was held as a prelude to the presidential visit, which is scheduled for June 27 to 30.
During the meeting, Yun and Tang exchanged views on the significance of the visit and the state of bilateral relations as well as the situation on the Korean Peninsula and in Northeast Asia.

Today's Top News
Editor's picks
Most Viewed