Australian Labor Party dumps Gillard for predecessor Rudd
Australia's former leader Kevin Rudd ousted Prime Minister Julia Gillard as Labor chief in a dramatic internal ballot on Wednesday, deposing the country's first female premier as the party fights desperately to head off defeat in September elections.
The embattled Gillard - who vowed to quit politics in September if she lost - called the vote after a day of internal party maneuvering to dump her in favor of her arch-rival and predecessor, whom she ruthlessly deposed in 2010.
Rudd won the vote of Labor lawmakers 57 to 45, the official returning officer announced, amid mounting unease in the party over an expected rout by Tony Abbott's conservative opposition at the national polls scheduled for Sept 14.
Gillard must now advise Governor General Quentin Bryce that she is resigning as prime minister, which was expected to happen on Thursday, before Rudd can be sworn into office and build on his previous vows to re-orient Australia's resources-fuelled economy toward the Asia-Pacific region.
At a pre-ballot news conference, Rudd said he had decided to heed the demands of MPs and challenge Gillard "because of the parlous circumstances we now face".
"The truth, if we're all being perfectly honest about it right now, is that we're on course for a catastrophic defeat unless there is change," said the Mandarin-speaking 55-year-old, who alienated some colleagues when in power with his volatile temper.
"So today I'm saying to you, the people of Australia, I'm seeking to respond to your call that I've heard from so many of you to do what I can to prevent Abbott from becoming prime minister."
Gillard dispatched her rival in a 2010 party room coup, but he remained popular with the public and is seen by many as Labor's best hope of salvaging the elections, despite a series of policy missteps leading to his ousting three years ago.
Reports said he could build on the initiative of his leadership win and move the election date forward to August.
The reports said Treasurer Wayne Swan, a key Gillard supporter and her deputy, had also resigned, along with a number of other frontbenchers including Trade Minister Craig Emerson.
"The mood was quite somber," said returning officer Chris Hayes of the nearly one-hour meeting, adding that Gillard addressed the caucus on "the strength of her vision for the nation".
It was the third time since the 2010 election that Gillard's hold on power was tested.
The charismatic Rudd himself launched an unsuccessful challenge in early 2012 while foreign minister, but was routed 71 votes to 31 and was forced onto the backbenches.
Then in March this year, Labor elder statesman Simon Crean made an abortive attempt to reinstall Rudd, who refused to stand and said at the time he would not challenge Gillard "under any circumstances".
In the aftermath, several ministers who backed Rudd resigned while Crean was sacked.
In confirming he would challenge this time, Rudd vowed to rebuild the faction-riven Labor Party.
"If I win this ballot, every effort I have in my being will be dedicated to uniting the Australian Labor Party," he said. "No retributions, no paybacks, none of that stuff. It's pointless, it's old politics."
Gillard will not be around to hinder him, announcing before the vote that she would retire at the elections if she lost.
Since assuming power, Australia's first female prime minister endured near-constant speculation about her leadership.
She won only the narrowest of victories in the 2010 election, resulting in a hung parliament which forced her to cobble together a minority government with the support of independents.
Calling the ballot, Gillard said the damaging leadership talk had to be resolved once and for all.
"I have been in a contest with the leader of the opposition, but I've also been in a political contest with people from my own political party," she said.
"No leader should be in that position, certainly no leader should be in that position in the run up to an election. And so tonight, this is it, finished."
Parliament was due to adjourn on Thursday night for the last time before the national polls, so any ballot had to be held before the legislative body disbanded.
AFP-Reuters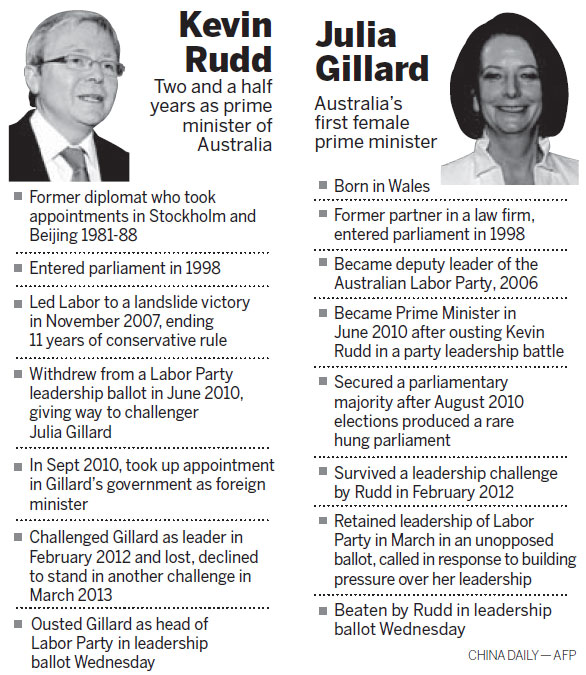 (China Daily 06/27/2013 page9)
Today's Top News
Editor's picks
Most Viewed