Currency swap to broaden yuan's global use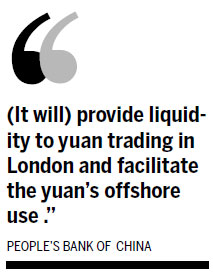 China and Britain agreed on Sunday on a 200 billion yuan ($32.59 billion) line of currency swap that is expected to further broaden the Chinese yuan's use in global trade and investment.
The swap would also give an edge to London in its plan to become an offshore center of yuan trading, in face of competition from global financial centers including New York, Paris and Frankfurt.
The People's Bank of China said in a statement on its website that the agreement will take effect in three years and is aimed at "supporting economic and financial exchanges" and guarding "financial stability". It will also "provide liquidity to yuan trading in London and facilitate the yuan's offshore use".

Today's Top News
Editor's picks
Most Viewed