Snowden's future still hangs in the balance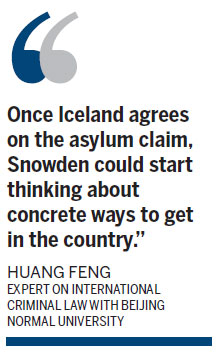 The fate of former US government contractor and NSA whistle-blower Edward Snowden is still hanging in the balance, analysts said on Thursday.
Huang Feng, an expert on international criminal law with Beijing Normal University, said that based on an evaluation of Snowden's current status, it is still difficult to predict the final outcome for him.
"He can stay in Hong Kong, or head to another place that accepts him," Huang said. "It depends on his attitude and the place in which he is seeking political asylum."
Iceland confirmed on Wednesday that several ministry officials had held informal discussions with Snowden's intermediary on the possibility of asylum.
Icelandic Prime Minister Sigmundur David Gunnlaugsson said during a visit to Stockholm that Snowden would need to be in Iceland in order to apply for asylum.
"Since he's not in the country it's not for me to comment on presently," Gunnlaugsson was quoted by AFP as saying.
In an interview with British newspaper The Guardian last week, Snowden described Iceland as a country that shared his values, but he also expressed concerns over Iceland extraditing him to the United States under pressure from Washington.
Possible destination
Huang said Iceland could be a possible destination for Snowden, although he is not within Icelandic territory at the moment.
"Once Iceland agrees on the asylum claim, Snowden could start thinking about concrete ways to get in the country," Huang said, adding that Snowden would not disclose the details.
WikiLeaks founder Julian Assange said on the same day that Snowden's representatives had contacted him to discuss his possible bid for asylum in Iceland.
In a conference call with reporters, Assange said Snowden's legal team has been, and are involved, in the process of brokering his asylum bid.
Assange was another whistle-blower who upset Washington with a massive intelligence leak. Starting from 2010, he began publishing US military and diplomatic documents on WikiLeaks with assistance from its partners in media.
Cornered in the Ecuadoran embassy in London, Assange is fighting extradition to Sweden, where he faces a sexual assault charge, which he said might result in his subsequent extradition to the US.
Amplified repercussion
Li Haidong, a researcher of US studies at the China Foreign Affairs University, said that Snowden's contact with Assange only amplified the repercussions of this incident.
"The two must somehow appreciate each other, as they are both fighting to reveal the abused government power in the West that intruded on the rights of citizens, and they are both stuck in a similar predicament," Li said.
Snowden, 29, previously divulged PRISM, a top secret NSA program that collects and analyzes data from Internet users around the world, to The Guardian and The South China Morning Post, a Hong Kong-based English-language newspaper.
Wang Xiangwei, editor-in-chief of The South China Morning Post, said on Wednesday that the newspaper still retains some "classified materials" regarding the US government that are expected to be published within one or two weeks.
According to US media reports, three former NSA employees have praised Snowden's leaks and corroborated some of his claims during a nationwide debate over the nature of his leaks.
William Binney, one of the three officials, warned about unlawful government acts if Snowden is extradited to the US, saying Snowden might be "first tortured, then maybe even rendered and tortured and then incarcerated and then tried and incarcerated or even executed".
Snowden fled to Hong Kong in May, but the US has not yet filed any formal extradition request.
US President Barack Obama on Wednesday defended the surveillance programs during his visit to Germany, saying that lives have been saved and threats avoided thanks to the monitored information.
AFP contributed to this story.
puzhendong@chinadaily.com.cn
(China Daily 06/21/2013 page12)
Today's Top News
Editor's picks
Most Viewed