Singapore smoky haze caused by Indonesian fires could last weeks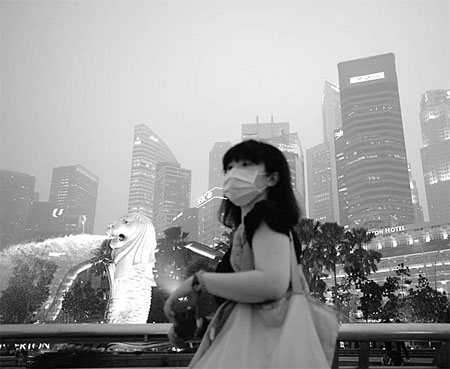 A woman wears a mask as the Singapore Central Business District is covered with haze on Thursday. Singapore urged people to remain indoors amid unprecedented levels of air pollution as a smoky haze wrought by forest fires in neighboring Indonesia worsened dramatically. Joseph Nair / Associated Press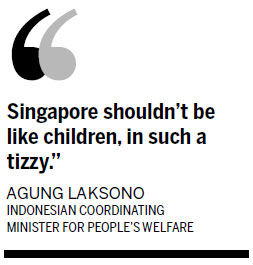 Haze from fires in Indonesia blanketing Singapore could persist for weeks or longer, the city-state's Prime Minister Lee Hsien Loong said on Thursday, as the smoke drove air quality to "hazardous" levels and disrupted business and travel in the region.
Illegal burning of forests and other land on Indonesia's Sumatra to clear space for palm oil plantations is a chronic problem during the June to September dry season.
One Indonesian minister accused Singapore of behaving "like a child", but pollution levels in the normally pristine city-state have shattered records set in 1997, raising diplomatic tension and concern about the economic impact.
"It can easily last for several weeks and quite possibly longer until the dry season ends in Sumatra," Lee said at a news conference, warning of action if Singapore-linked companies were behind the burning. "On the scale of it, it's unlikely to be just small stakeholders slashing and burning."
On the fourth day of heavy smog, the smell of burned wood filled the air, skyscrapers were barely visible and haze hung in the tunnels that link Singapore's metro stations and shopping malls in the city center. Some residents wore surgical masks or covered their faces with handkerchiefs when they walked outside.
An Australian couple on vacation said they cancelled a visit to the zoo and would probably stay indoors.
"I'm never coming back to Singapore at this time of the year again," said the husband, who identified himself only as Rob.
Singapore, a major financial center, sent officials to an emergency haze meeting in the Indonesian capital, Jakarta.
"We will insist on definitive action," Environment and Water Resources Minister Vivian Balakrishnan said on his Facebook page. "No country or corporation has the right to pollute the air at the expense of Singaporeans' health and well-being."
As Singapore put pressure on Jakarta to act, the Indonesian minister leading the response efforts hit back.
"Singapore shouldn't be like children, in such a tizzy," Coordinating Minister for People's Welfare Agung Laksono told reporters, adding the government was investigating whether large companies were behind the fires.
"If they are, some are owned by Indonesians, Malaysians, Singaporeans," he said. "We will take action if they are found responsible. But there must be a process."
'Hazardous'
Singapore, which usually has clear skies, saw its air quality deteriorate sharply on Monday. Its pollution standards index soared to a record of 371 at 1 pm on Thursday and then swung between the "very unhealthy" and "hazardous" levels.
The pollution readings in Singapore have exceeded the peak of 226 hit in 1997 when smog from Indonesian fires disrupted shipping and air travel across Southeast Asia.
Singaporean air traffic controllers gave more time for aircraft between taking off and landing at Changi Airport, a major aviation hub, because of poor visibility.
"It's disgusting, terrible," Dennis Wong, an information technology professional at a foreign bank, said as he smoked a cigarette in the business district. "It feels very uncomfortable when you walk on the street. Better to stay at home."
Work at several Singapore construction sites slowed with few workers seen outdoors. Fast-food operator McDonald's suspended its delivery service across the city-state.
Singapore's drug stores have run short of face masks and residents have taken to social media to complain about their giant neighbor and the ineffectiveness of the Association of Southeast Asian Nations to tackle the haze issue.
Reuters-AFP
(China Daily 06/21/2013 page11)
Today's Top News
Editor's picks
Most Viewed