Training for landmark games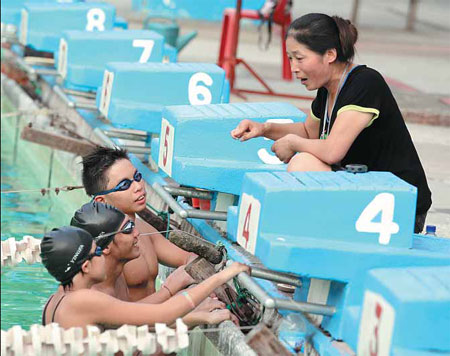 Cao Qin (right), 50, a coach from Chongqing, trains four members of the Myanmar swimming team in an outdoor pool in Yangon. Cao and 25 other Chinese coaches from various sports are helping young athletes in Myanmar to prepare for the 27th Southeast Asia Games, which will be held in the nation in December. Zhang Wei / China Daily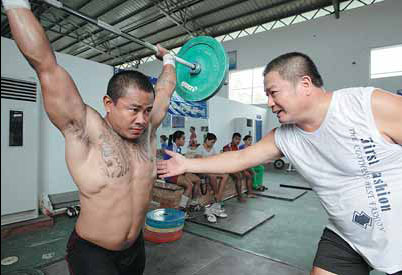 Hu Youzhi, 55, a senior weightlifting coach from Ningxia Hui autonomous region, instructs a lifter from Myanmar at the No 2 Nay Pyi Taw Sports Training Center. Zhang Wei / China Daily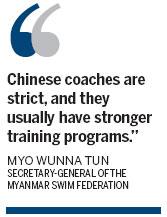 Editor's note: China Daily begins a series of human interest stories representing neighboring countries in an effort to shed insight on topics relevant to China. Myanmar, which is in transition, is the first installment.
Chinese coaches lend their expertise to budding Myanmarese athletes
It was nearly 40 C outside, and in the No 2 Nay Pyi Taw Sports Training Center, Hu Youzhi's T-shirt was already soaked with sweat as the shoddy air conditioner tried to battle the scorching heat.
"I need at least two T-shirts a day," said Hu, a senior weightlifting coach from Northwest China's Ningxia Hui autonomous region, downing a bottle of tea during his break. Nearby, a group of Myanmarese athletes waited for their "Chinese buddy" to join them in a traditional game of chinlone, a game similar to soccer and one they play to relax.
The 300-square-meter training room is decorated with dozens of large photos of world-famous weightlifting champions. One Chinese champion pictured on the wall is Hu's former student.
It was the first time that Hu had traveled to Myanmar to train non-Chinese athletes. Along with 25 other Chinese coaches from various sports fields, he came to help young athletes prepare for the 27th Southeast Asia Games, which will be held in Myanmar in December.
As the largest sports event in Southeast Asia, the SEA Games will be just as important to Myanmar as the 2008 Beijing Summer Olympics were to China, said Hu and his Chinese colleagues.
And as these will be the first games to be held by the country since 1969, Myanmar sees the opportunity to host as a chance to reconnect internationally after decades of isolation under Western sanctions.
More than 5,000 athletes from 11 countries are expected to compete.
In 1969, the country grabbed 57 gold medals in the 5th SEA Games. In 2011, Myanmar won three gold, one silver and three bronze medals in the 26th SEA Games in Indonesia.
The country plans for glory again this year, which makes the assistance from foreign coaches especially meaningful, and in the weightlifting category, the country faces strong competition from Thailand and Indonesia, Hu said.
Help from China
Hu has adapted his training techniques from "hard training" for Chinese athletes to a two-handed approach of "training hard and playing hard" for the Myanmarese. Hu, who may appear tough, sometimes even brings souvenirs from China, such as silk and bamboo wallets, to motivate the athletes and boost their morale.
And Hu shows his dedication to the athletes when he demonstrates difficult techniques because the interpreter is sometimes unable to relay his instructions accurately, which explains why the 55-year-old needs to change his shirt every day.
Getting along with their Myanmar "students" is a pleasant experience for Chinese coaches. They find the trainees very down to earth and the two sides share a consensus to get better results in the upcoming games.
The Chinese and Myanmarese governments signed an agreement in 2012 in which China promised to provide assistance for the SEA Games. In addition to sending Chinese coaches to stay for one year, China also provided training facilities and equipment, helped facilitate the competition management system and organized the opening and closing ceremonies.
China has also invited Myanmar athletes to receive training in China, to further improve their skills.
Cao Qin, a swim coach from Chongqing, has been coaching members of the Myanmar swim team in Yangon.
"One year is not enough, but we will try our best," said the 50-year-old Cao.
Cao has been faced with several challenges such as inadequate training facilities, insufficient nutritional supplementation and, of course, communication.
Grateful for China
Language is a barrier, but she has tried every means to get her points across, including body language and assistance from an interpreter. The communication may sound awkward at times but usually results in heartfelt laughter.
Some Myanmar athletes bring their home-made food to the Chinese coaches to express their gratitude, which made their relationship much closer.
Ingin Kay Khine, a 12-year-old swimmer, said she was both excited and nervous to participate in the upcoming games.
"I compete with players older than me," she said in English. And with the assitance from Cao, the first Chinese coach she has had since learning to swim at a very young age, Ingin's skill has improved a lot.
Myo Wunna Tun, secretary-general of the Myanmar Swim Federation, said he was grateful to the Chinese coaches for helping them prepare for the games.
"Chinese coaches are strict, and they usually have stronger training programs," he said, happy that many Myanmarese players of all skill levels have experienced better results.
Aung Si Thu, a 27-year-old martial artist, echoed the secretary-general's praise, saying, "I am more confident about the upcoming games now".
(China Daily 06/18/2013 page10)
Today's Top News
Editor's picks
Most Viewed