Developers raze ancient tombs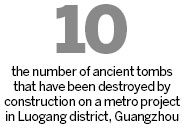 Five ancient tombs were destroyed overnight in Guangzhou's Luogang district to make room for a metro project on Saturday, raising concern over the protection of relics as economic construction in the Guangdong provincial capital speeds up.
Zhang Qianglu, an official with the Guangzhou Archaeological Institute, said the destroyed tombs were pre-Qin (the Spring and Autumn Period and the Warring States Period, 770-221 BC) era and were valuable for archaeological study and research of the city's ancient past.
Many archaeologists and workers were still investigating at the site in Luogang's Dagong Mountain area on Friday afternoon, before the tombs were found to have been bulldozed on Saturday morning, with many artifacts destroyed or damaged, Southern Metropolis Daily reported on Sunday.

Today's Top News
Editor's picks
Most Viewed