Shanghai film festival rolls out red carpet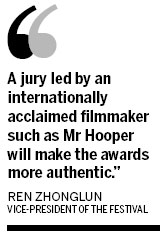 Academy Award-winning director Tom Hooper heads the guest list of the 16th Shanghai International Film Festival that opens on Saturday and will run nine days.
Hooper, whose Les Miserables and The King's Speech were both released in China, will join French critic Michel Ciment, German director Chris Kraus and Chinese director Ning Hao to decide the winners of the 12 Golden Goblet Awards.
"A jury led by an internationally acclaimed filmmaker such as Mr Hooper will make the awards more authentic," said Ren Zhonglun, vice-president of the festival.

Today's Top News
Editor's picks
Most Viewed