Gold miners held in Ghana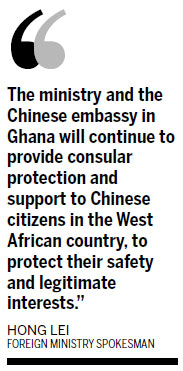 China's Foreign Ministry asks mine workers to adhere to local laws
China's Foreign Ministry on Thursday called on all Chinese citizens in Ghana to abide by local laws, after 124 Chinese workers allegedly involved in illegal mining were detained this week in Accra, the West African country's capital.
"The ministry and the Chinese embassy in Ghana will continue to provide consular protection and support to Chinese citizens in the West African country, to protect their safety and legitimate interests," spokesman Hong Lei said at a daily news briefing.
Hong said the Chinese embassy in Ghana has made representations to senior officials at the Ghanaian presidential office.
The embassy stressed that it would like the Ghanaian authorities to avoid risking Chinese people's safety and infringing on their rights. It also asked authorities to prevent the looting of Chinese citizens' property in the ongoing crackdown on illegal gold mining.
The embassy also sent representatives, including medical staff, to visit the detained Chinese, bring them daily necessities and check their health, the spokesman said.
Almost all Chinese investors and miners withdrew from their mining sites. Some Chinese who are in Ghana illegally have fled from local police into the forest.
"Most miners in Ghana are from my hometown - Shanglin county, in Guangxi Zhuang autonomous region - so many people are my friends. They said they are short of food there," said Xiaowei, a Chinese woman in her late 20s.
"They want to go home so badly, but they are afraid of being caught by local police and mistreated," she said.
She works for a Chinese hotel in Kumasi, the second-largest city in Ghana, which had never had such a high occupancy before this week.
"People staying in my hotel said their machines and property were taken, and the rest of the sites were mostly burned," she said.
"But after our embassy became involved, locals were not as harsh on Chinese people with legal documents," she added.
Many Chinese in Ghana borrowed a lot of money at home to invest in the mining projects. About 3,000 small gold-mining sites in Ghana have Chinese investors, and each site has an average investment of 2.5 million yuan ($407,200). The Chinese losses in the crackdown are huge, she said.
In Shanglin, Li Liping, 24, expected her newly married husband to be safe in Ghana. Before they were married, they worked in Nanning, the capital city of Guangxi.
"He wanted to make more money for our new home, so he went to Africa only a month after our wedding. Now I just hope he can be safe and come home as soon as possible," Li said, adding that she has not slept for days because she is worried about her husband.
"Most of my friends have family members in Ghana. The only topic of conversation these days is their safety there. Everyone in China is so worried," she added.
Xu Weizhong, a former counselor at the Chinese embassy in Ghana and now an expert on African studies at the China Institutes of Contemporary International Relations, said Ghana's government could work closely with the Chinese authorities to control illegal entry and residence in the African country.
"Most Chinese miners in Ghana do not speak English or communicate with local residents. Their mining activities often ruin the local environment and resources," Xu said.
zhaoyanrong@Chinadaily.com.cn
(China Daily 06/07/2013 page11)
Today's Top News
Editor's picks
Most Viewed