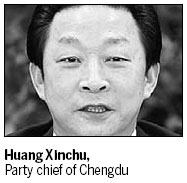 Hosting global Fortune event has drawn the world's attention to city
Chengdu will strive to make the best of the "Fortune Forum" effect, enhance the international level of the city and make it a growth hub for western China, Huang Xinchu, Party chief of Chengdu, told China Daily.
"Our vision is to integrate the city with the world and let the world know Chengdu. We'll try our best to facilitate the forum's 'Fortune effect' and 'amplifying effect', and lift the international level of the city to a new high," he said a day before the 2013 Fortune Global Forum opens in the southwestern metropolis.