The San Antonio Spurs refuse to let talk of them being too old get in the way of their NBA championship dreams.
In what has become a familiar refrain, the Spurs opened yet another NBA campaign to waves of doubt as critics dismissed them as too old and slow to handle an 82-game regular season and four grueling best-of-seven playoff series.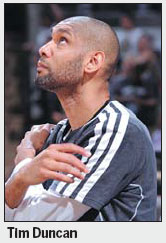 But the Spurs, powered by a seemingly ageless Big Three of Tim Duncan, Tony Parker and Manu Ginobili, have proved the doubters wrong by reaching this year's NBA Finals for the first time since 2007, the last time they won the title.